New PR Pathways for all occupations on the STSOL list
Expanded pathways to permanent residence
The Department of Home Affairs has set 25 November 2023 for implementing changes to the employer-sponsored permanent residency program.
Once the ENS reforms have been implemented, short-term Temporary Skill Shortage (TSS) 482 visa holders will gain access to permanent residency under the 186 Temporary Residence Transition (TRT) stream of the 186 ENS visa program.
All Temporary Skill Shortage (TSS) SC 482 visa holders will be eligible for ENS visas sponsored by their employers.
Applicants will need to continue to work in the occupation nominated for their TSS visa(s).
Sponsored visa holders will be eligible for ENS TRT after two years (down from three years) of sponsorship on a TSS by their employer.
Applicants will need to meet all other nomination and visa requirements for the TRT stream of the Employer Nomination Scheme visa.
The limit on Short Term stream TSS visa applications that can be made onshore has also been removed in the interim.
a legislative instrument has just been released outlining a pathway to permanent residency from 1st of July 2022. We will provide a further update in more detail, however if you were in Australia as the holder of TSS for 12 months from 1 February 2020 and December 2021 and you meet the requirements for Subclass 186 Employer Nomination Scheme you may have a pathway to PR.
Employers will be able to nominate short-term subclass 482 TSS visa holders in two-year occupations for Permanent residence under the 186 visa if the employee:
is in Australia for at least 12 months between

1 February 2020

and

14 December 2021

; and
meets the general 186 visa criteria under the 186 temporary transition stream
The government has also announced the extension of the grandfathering arrangements in place for 457 visa holders who held or had applied for a subclass 457 visa as of 18 April 2017.
Related: 
The Australian Government is making it easier for highly skilled migrants to remain in Australia and to continue working in critical sectors as Australia's economic recovery continues.
​Minister for Immigration, Citizenship, Migrant Services and Multicultural Affairs Alex Hawke said these measures recognise the contribution of skilled migrants who remained here during the COVID-19 pandemic and encourage them to stay in Australia.
The main winners from the temporary concession, which affects primary holders of the temporary skill shortage 482 visa and holders of the now-discontinued 457 visa, will be workers employed in the health and hospitality industries as well as all occupations on the STSOL list.
The legislation to enable this is currently being developed and is expected to be introduced 'around the middle of this year'.
These visa changes will improve access to permanent residence for:
Previously, temporary skill shortage visa holders in the "short-term" stream were restricted to a two-year stay in Australia without a pathway to permanent residence (such as cooks).
The measure should provide some modest relief to employers struggling to find workers.
Job vacancies in the hospitality industry have increased by 87 per cent since the start of the pandemic, according to data from the Australian Bureau of Statistics, while openings in the healthcare industry are up by 72 per cent.
Permanent Residency Pathway for STSOL Occupations
A new pathway to permanent residency has been announced by the Australian Government for occupations on the Short Term Skilled Occupation List (STSOL). The following eligibility criteria apply: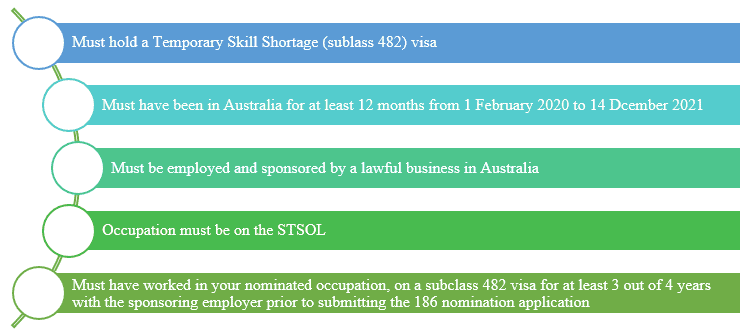 This pathway to permanent residency for STSOL occupations commences from 1 July 2022. The eligibility criteria for this pathway have strict requirements. See below for important things to note regarding time requirements and visa types.
Must work for sponsor employer while holding 482 visa
Applicants interested in the pathway to PR for STSOL occupations must hold a TSS 482 visa while working for their sponsor employer for a minimum of 3 years. If the applicant has worked for the sponsor employer while on another visa type i.e., working holiday (subclass 417/462) or graduate visa (485), this time does not contribute to the 3-year requirement. Therefore, any time spent working for the sponsor employer that is not on a TSS 482 visa is not eligible to count towards the 3-year eligibility criteria.
Must work for sponsor employer for a minimum of 3 years
To be eligible for pathway to PR for STSOL occupations, you must work for your sponsor employer for a minimum of 3 years. The TSS 482 visa is only granted to STSOL occupations for 2 years. However, this visa type allows you to reapply if the visa is expiring and you wish to remain in Australia longer. This means that some TSS 482 visa holders may only be eligible for the 186 pathway to PR once holding their second 482 visa. This is due to the eligibility criteria that you must have worked for your sponsoring employer for at least 3 years prior to the 186-nomination application submission.
Frequently Asked Questions
Can I change nominated positions or employers?
It should be noted that TSS 482 visa holders cannot apply for a 3rd 482 visa while remaining onshore in Australia. Therefore, if you change nominated positions or employers this may prevent you from reaching the 3 year minimum work requirement.
Does the time spent working for the sponsor employer on a bridging visa count towards the work requirement?
The Department of Home Affairs is yet to clarify this. It should be noted that due to the strict requirement of holding a TSS 482 visa while working for the sponsor employer, it can be assumed that time worked for the employer while holding a bridging visa would not count towards the work requirement.
Can I apply for the pathway to PR when my first TSS 482 visa expires?
No. Due to the requirement that you complete a minimum of 3 years of employment with your sponsor employer, applicants must hold 2x TSS 482 visas as this visa type is only valid for 2 years for STSOL occupations.
As defined in the legislative instrument, a legacy 457 worker, for a subclass 186 visa application, means a person who :
held a Subclass 457 visa on or after 18 April 2017; and

was in Australia for at least 12 months between 1 February 2020 and 14 December 2021.
The age exemption relating to legacy 457 workers is intended to capture all Subclass 457 visa holders after the abolition of the Subclass 457 visa was announced on 18 April 2017. Those holding a Subclass 457 visa at the time of application for the TRT stream of the ENS visa will be eligible for the age exemption. Additionally, those who previously held a Subclass 457 visa but currently hold a TSS visa, will also be eligible for the age exemption, provided they meet the above requirements.
This exemption is available to applicants who applied for the TRT stream of the ENS visa on or after 1 July 2022 and is intended to be accessible for two years from its commencement.
This measure seeks to complement the pathway to permanent residence for short-term stream TSS visa holders and retain skilled migrants, who worked in Australia throughout the COVID-19 pandemic. As such, it is expected that individuals seeking to access this exemption would have worked on an appropriate temporary skilled work visa throughout the period of eligibility. Where this is not the case, applicants may still be eligible for the age exemption, however, DHA will consider the applicant meets all other requirements to the TRT stream of the ENS.
Extensions for skilled regional (provisional visa) holders
The Government will also extend visas for skilled regional (provisional visa) holders (subclass 489, 491 and 494) in recognition that this cohort has been adversely affected by COVID-19 related travel restrictions.​
"Current and expired skilled regional provisional visas will be extended, providing additional time to meet regional work requirements for permanent residence," the immigration minister said.
"There are currently around 9,000 skilled regional provisional visa holders overseas. These visa holders can enter Australia from 1 December 2021, and they will also be eligible for an extension of their visa," he said.
Visitor visa applicants overseas
In recognition of ongoing border arrangements, the Government will also extend by a further six-months Visa Application Charge waivers for new Visitor visa applicants overseas where their visa expired, or will expire, between 1 January 2022 and 30 June 2022.
"This measure will support the tourism industry by welcoming back visitors once it is safe to do so," Minister Hawke said.
485 visas
In addition, the government has also announced a raft of visa changes to support hundreds of Temporary Graduate visa holders (subclass 485) stranded overseas, including a provision of replacement visas for those whose visas have expired and a year-long extension on the length of their stay.
Education Minister Alan Tudge and Immigration Minister Alex Hawke have agreed on changes that will allow 30,000 students whose visas have expired after February 1, 2020 to reapply for a new 485 visa of the same duration as their original one.
Graduates of masters by coursework programs, who numbered 170,000 pre-pandemic, will also be able to stay on to work for three years instead of two and vocational education graduates will be eligible for a two-year temporary visa.
Related
Students will have their time spent studying offshore recognised when applying for a 485 visa.
International education strategy
The Government has announced further measures to support the return of international students and graduates, bolstering the international education industry by:
Allowing Temporary Graduate 485 visa holders, who have been unable to travel to Australia as a result of COVID-19 international border restrictions, to apply for a

replacement visa

;

Increasing

the length of stay on Temporary Graduate visas in the Masters by Coursework and Vocation Education and Training (VET) streams;
​Simplifying the requirements for Temporary Graduate visa applicants for VET sector graduates; and
Extending the existing measure for student and temporary graduates to recognise time spent offshore studying online to count towards qualifying for a Temporary Graduate visa application.
"In order to excite interest in Australia as a study destination these student visa flexibilities are welcome," Mr Honeywood said.
"Whether they will be enough to encourage students who are already considering Canada, the UK and US is another question."
News that fully vaccinated international students can return to NSW, Victoria and the ACT from December 1, alongside visa reform, should help alleviate intense frustration within the international student sector, which was valued at $40 billion in 2019.
However, there are concerns that the delay in reopening borders will have little impact on attracting new students for the 2022 academic year as most would have made decisions about where to study some months ago.
Please note: No further details available at this stage. This page will be updated when legislative changes are implemented and with any further information when it is received.