485 visa COVID-19 replacement stream
Important: This stream will be available for new applications from mid-2022. Further details will become available over the coming months. Please continue to check back for updates.
The COVID-19 replacement stream is a replacement for the initial Temporary Graduate visa. It is only available for Temporary Graduate visa holders impacted by the Australian travel restrictions. This means, people who could not stay in Australia for the full period allowed by their previous Temporary Graduate visa.
The replacement Temporary Graduate (subclass 485) visa will recognise the commitment made by international students to Australia. It will acknowledge the disruption to plans that COVID-19 and the associated travel restrictions caused.
Eligibility
To be eligible, applicants must:
currently hold, or have held a Temporary Graduate visa that expired on or after

1 February 2020

;

and

have been outside Australia at any time between

1 February 2020 and 1 December 2021

.
In normal circumstances, applicants can only be granted one Temporary Graduate visa, and a further visa is only available on the basis of regional work and study.
DHA still determining details on the application requirements. It is likely that applicants will need to supply some supporting documents to apply for this visa stream.
Staying in Australia
Applicants will receive the full validity of their initial Temporary Graduate visa. This is determined by the level of their qualification.
Cost
The visa costs AUD1,680 for the primary visa applicant. There is also a charge for each family member who applies for the visa with them.
As successful applicants will be granted the full validity, the full visa application charge will apply.
Whilst holding this visa
Applicants can live, study and work in Australia temporarily. They must find their own employment if we grant this visa. We are not responsible for arranging employment.
Applicants can include members of the family unit in their application when they apply. This includes family members that weren't included in their original Temporary Graduate visa.
FAQ: 485 Graduate Visa
The 485 Graduate Visa has experienced several changes in the past two years due to the COVID-19 pandemic. This FAQ provides prospective visa applicants some answers to common questions.
What is the 485 Graduate Visa?
The 485 Graduate Visa is for international students who have completed two years of study in Australia. The length of the visa can be from 18 months to 4 years, and this is dependent on your situation. This visa allows applicants to live, work and study in Australia temporarily.
What streams does the 485 Graduate Visa have?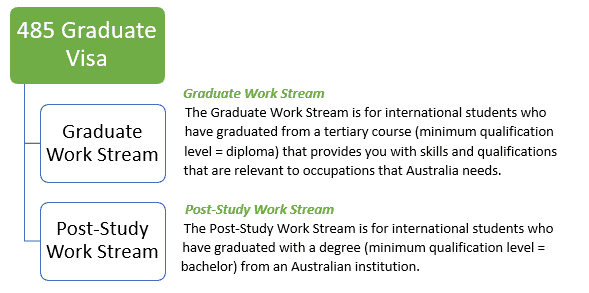 What are the 485 Graduate Visa requirements and how are these altered to account for COVID-19?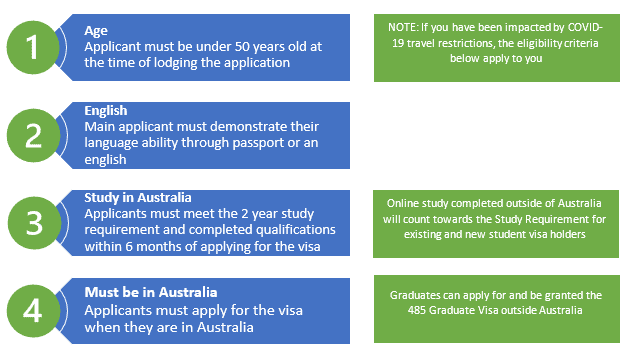 How long will my 485 Graduate Visa be granted for?
The length of stay granted on the 485 Graduate Visa is dependent on the applicant and the type of course they have completed. This may be something you consider prior to commencing study in Australia.

Can I bring my family with me?
Yes, the 485 Graduate Visa allows for the main applicant to bring their dependent children or spouse/de-facto partner/same-sex partner.
Can I be granted an extension on a 485 Graduate Visa?
485 Graduate Visas can be granted extensions in certain circumstances. If you have graduated from a course that you completed at a regional institution and you resided for a minimum of two years in a regional area immediately before applying for your second 485 visa, you may be eligible for the visa extension.
The second 485 Graduate Visa which is the extended visa, does require that the applicant continue their ongoing residence in a regional area of Australia.
The following options are available to visa applicants:

Is the Australian Government being flexible with some requirements due to COVID-19?
The Australian Government is taking a more flexible approach to the rules and regulations concerning student visas due to COVID-19.
Students who cannot continue their studies in Australia can defer their study and this will not impact their visa status
Students who are studying online due to COVID-19 will not breach their visa conditions
Flexibility with the maximum amount of work hours per week for specific critical services
What are the fees for the 485 Graduate Visa application?

How long does it take for the 485 Graduate Visa to be processed?
The processing times vary depending on the stream that you apply for.
Graduate Work Stream
75% of applications are processed within 17 months
90% of applications are processed within 19 months
Post-Study Work Stream
75% of applications are processed within 9 months
90% of applications are processed within 14 months
If you require further advice or information, you can contact Visa Envoy. Our standard professional fees are as follows:
485 visa (Post Study Work Stream): Starting from $900 + GST (additional $400 for each dependent)
485 (Graduate Work Stream- includes skills assessment): Starting from $1500 + GST (additional $400 for each dependent)
485 Subsequent Entrant: VisaEnvoy fee is $1,600 (plus $150 GST) and Visa Application Charge (VAC) is $1,680.
We offer a complimentary migration pathway consultation to our 485 visa clients (valued at $150)
Please note that for more complex cases, the fees are determined on a case-by-case basis.
Related:
See the latest 485 visa changes and updates: