485 visa changes- Students and Skilled Migrants
Over the last few weeks, the Australian Government has announced several temporary changes to the visa and immigration system that will encourage international students and skilled migrants to travel to Australia to assist with rebuilding the economy and supplementing our labour shortages due to the impacts of COVID-19.
The temporary changes introduced include: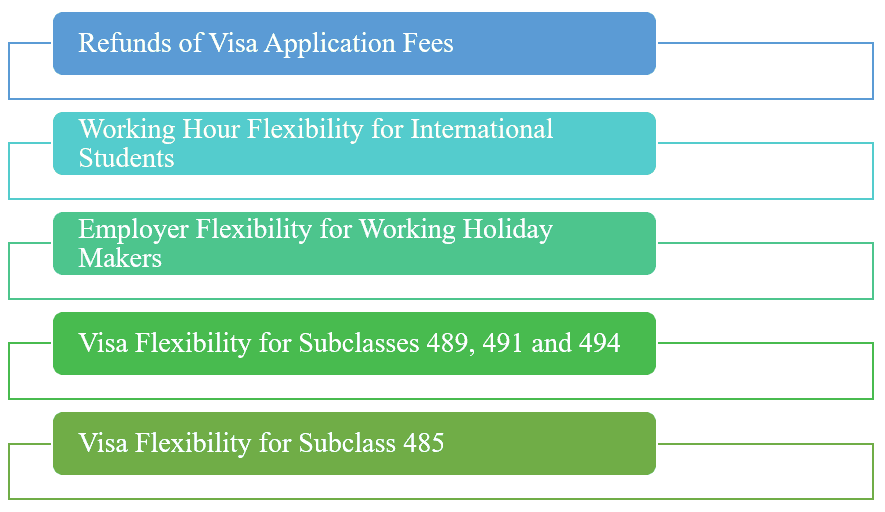 Refunds of Visa Application Fees
On 19 January 2022, the Prime Minister Scott Morrison announced that the Government would rebate all visa application fees for international students and working holiday makers who arrive in Australia for the next 8 weeks. There are approximately 150,000 international students and 23,500 working holiday makers who remain overseas. However, they can return to Australia with their visa costs rebated reducing their overall travel costs amidst the global pandemic. The visa application cost for international students is currently $630 and $495 for working holiday makers. The visa application fees will be rebated upon arrival in Australia and will be processed through the Department of Home Affairs.
"And there are around 150,000 students who have visas who we are encouraging to come back to be there for the start of their university or college year, and that is a thank you to them for coming back and continuing to choose Australia." – Prime Minister Scott Morrison, Press Conference, 19 January 2022[i]
Working Hour Flexibility for International Students
On 19 January 2022, the Immigration Minister Alex Hawke announced that there would be increased flexibility regarding the working hour restriction on international students. Throughout the COVID-19 pandemic, the Government has previously removed the 20-hour work restriction on international students in some essential workforce sectors. The 20-hour work restriction has now been removed temporarily from all international students in all workforce sectors. This will be reviewed in April 2022. Since the Government announced the re-opening of international borders to fully vaccinated individuals who held a valid visa, 43,000 international students have travelled to Australia. This welcomed change gives international students the opportunity to work more hours ensuring greater financial stability whilst supplementing labor shortages.
"Due to current workforce shortages, the Government is temporarily… removing the limit on Student visa holders' working hours across all sectors of the economy." – Immigration Minister Alex Hawke, Joint Media Release, 19 January 2022[ii]
Employer Flexibility for Working Holiday Makers
Immigration Minister Alex Hawke announced that there will be no limit on the length of time that Working Holiday Makers can work for the same employer. This will be in effect until the end of 2022. This change will allow Australia businesses who are experiencing workforce shortages to continue to employ working holiday makers. It also is a welcome incentive for working holiday makers that provides more employment stability throughout the uncertainty of the global health crisis.
"In addition, effective immediately and until the end of 2022, there will be no limit on the length of time Working Holiday Makers can work for the same employer." – Immigration Minister Alex Hawke, Joint Media Release, 19 January 2022[iii]
Skilled Regional Provisional Visa Flexibility – Subclasses 489, 491, 494
The Australian Government has extended visa subclasses 489, 491 and 494 by 3 years to allow Skilled Regional Provisional Visa holders who have been impacted by COVD-19 international travel restrictions to travel to Australia. This will positively impact 10,000 skilled regional workers and allow them sufficient time to travel or return to Australia to resume living and working in a regional area under their granted visa.
Temporary Graduate Visa Flexibility – Subclass 485
The Government has announced that Temporary Graduate Visa Holders who have been impacted by COVID-19 travel restrictions may be eligible for their visas to be extended or enlivened until 30 September 2022. Temporary Graduate Visa Holders who are eligible to apply for a visa extension will be notified and then be given an interim visa to come onshore to Australia to apply.
Related:
Temporary Graduate Extension Eligibility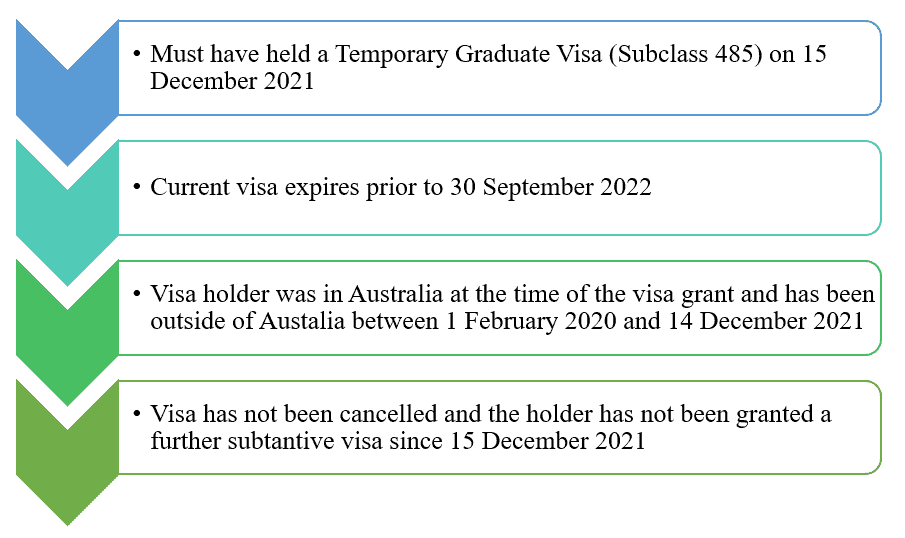 Temporary Graduate Enlivening Eligibility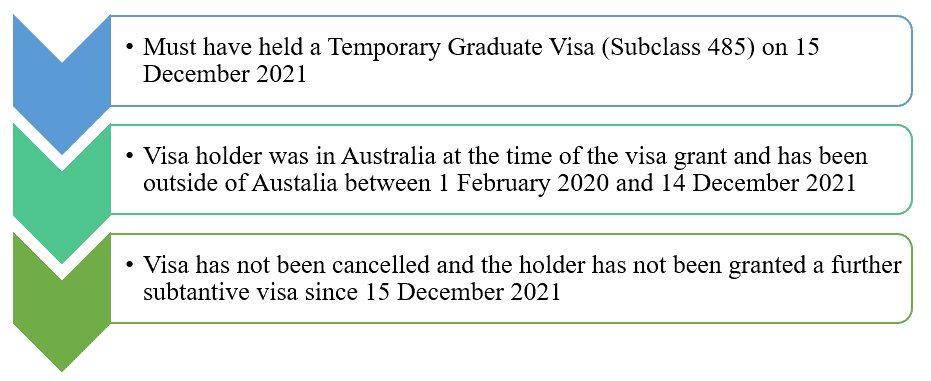 485 visa changes- Graduate Work Stream
As a concession during the COVID-19 pandemic, the stay period on the Temporary Graduate (subclass 485) visa Graduate Work stream, will increase from

18 to 24 months

, and application requirements will be streamlined by

removing the requirement

for graduates to nominate an occupation from the skills occupation list.
These changes will be implemented progressively from 1 December 2021 through to 1 July 2022.

Further details will be available soon.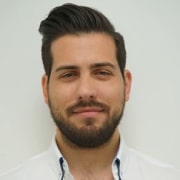 Registered Migration Agent
MARN 1796030
GradCertMigLaw (VU),
Juris Doctor -Master of Laws (current) and Bachelor of International Studies – Political Science, Spanish
Victor is a Registered Migration Agent with previous experience in an immigration law firm in Melbourne. Victor has extensive experience in Employer Sponsored visas (including 482, 186, 494). He has extensive knowledge of Immigration law and regulations, he advises businesses as well as individuals across a broad range of visa categories. He is professional, extremely organised, motivated, and dedicated to his clients' needs.
Victor is also experienced with other visas including Skilled, Partner and Distinguished Talent /Global Talent visas. It's the challenge – or the multifaceted approach required to navigate the Australian migration system that keeps him focused. Book a time with Victor here. Victor speaks Spanish as a second language – ¡hola!