Global Talent Visa- Independent program (GTI)
The Global Talent Visa-Independent Program (GTI) is designed to provide a streamlined and priority visa pathway for highly skilled and talented individuals to migrate to Australia permanently.  The government aims to attract talented individuals from across the world who are the top of their field of industries in so-called "target sectors".
Global Talent Independent program
Places in the GTI program will be tripled to 15,000.
Global Business and Talent Attraction Taskforce
A new whole-of-government Global Business and Talent Attraction Taskforce will be established to attract international businesses and exceptional talent to Australia, to support the post- COVID recovery and boost local jobs.
This initiative builds on the existing Global Talent Initiative and Business Innovation and Investment Program and the new initiative announced by the Prime Minister on 9 July 2020 to attract export-orientated Hong Kong-based businesses to Australia.
What is the GTI (Global Talent visa) program?
The Department works with Australian universities, industry bodies, state, and territory government to attract highly skilled and talented individuals. There are Global Talent Officers in major cities such as London, Shanghai, Singapore, Berlin and Washington DC.  These officers work with key industries to invite individuals to apply for the GTI program.
The Department is looking for individuals who are skilled in one of the seven target sectors and are able to earn a salary that meets the fair work high-income threshold or be a high a performing recent PhD, Masters or Honours graduate.
Access to the program is via referral from either the Global Talent Officers or by a nominator.
Target sectors
Resources

Agri-food and AgTech

Energy

Health Industries

Defence, Advanced Manufacturing and Space

Circular Economy

DigiTech

Infrastructure and Tourism

Financial Services and FinTech

Education
Read more about the target sectors and in detail at the end of this page.
Expected salary threshold
The high-income threshold is adjusted every financial year, and it is the amount set by Fair Work Australia. This year, the threshold is at $158,500.
The Department will assess the applicant's ability to earn the threshold through:
The applicant's current salary
Job offer outlining the salary
Recent PhD or Masters graduates in the target sectors.
For more information see  Fair Work High Income Threshold
Benefits of the GTI Program
The benefits of the GTI Program include:
Priority processing
No age limit to apply
How to apply?
To apply you must:
Apply to receive a unique identifier issued by the Global Talent Officers; and
Secure a nominator; and
If successful with these two steps, apply for the visa.
Highly skilled professionals referred to the Department may be invited to apply for a Distinguished Talent visa (subclass 124 or subclass 858).
Use our Global Talent assessment form:
to refer a highly skilled individual at the top of their field to the Global Talent Independent program (to receive a global talent unique identifier), or
to lodge a Distinguished Talent visa application through the Global Talent Independent program (you will need a global talent unique identifier)
Unique identifier
A unique identifier will be provided to individuals who meet the program requirements. You will have to submit an expression of interest (EOI) on the Global Talent Contact form. Once submitted, you will receive an acknowledgment that your EOI has been submitted. There is no standard processing time for the EOI. However, it is understood that due to COVID-19, these are currently taking longer than usual.
Nominator
The applicant will need to have a nominator to nominate them for the program. The nominator must have a national reputation in the same field as the applicant and is either:
an eligible Australian citizen or permanent resident
eligible New Zealand citizen
an Australian organisation.
Depending on the industry you are in, your nominator could be your university, your employer, your industry body, or your industry peers.
A number of factors may be assessed to determine the nominator's national reputation. For example, the Department may look at the nominator's:
record of achievements
leadership in the industry
professional associations with leading organisations and industry bodies
employment history
contribution to international journals
participation in local and international conferences
Visa application
Once you have received the unique identifier, you will be able to lodge your application under the Distinguished Talent Visa (outside Australia). If you are in or out of Australia, it will be an subclass 858 Distinguished Talent Visa. Previously if you were outside Australia or holding an inappropriate visa, you had to lodge a subclass 124 Distinguished Talent Visa.
Global Talent Independent changes – Masters and Honours students
Global Talent Independent program now prevent Masters and Honours students from receiving an invitation, based solely on their academic qualifications.
This policy change affects all future EOI assessments, and applies to EOI submissions made by candidates who have not yet received an invitation to the Global Talent program by 20 January 2021.
EOI candidates who submitted an EOI prior to the policy changes and have not been invited are encouraged to review their eligibility and to consider applying again when they meet the new requirements.
New eligibility requirements:
Applicants must demonstrate that they are highly skilled in one of the target sectors and:
prove they are internationally recognised with evidence of outstanding and exceptional achievements

still be prominent in their field of expertise

provide evidence that they would be an asset to Australia, in their field of expertise

have no difficulty obtaining employment in Australia or becoming established in their field

have a recognised organisation or individual in Australia endorse them as global talent, in the same field as the applicant.
Candidates must meet a high standard and show an exceptional track record of professional achievement. This may include:
senior roles

patents

professional awards

international publications

memberships.
Applicants should have the ability to attract a salary at or above the Fair Work high income threshold.
In assessing the applicant the Department considers:
current salary shown through payslips or a contract, or

future job offers outlining remuneration, or

recent PhD graduates and certain PhD students with relevant qualifications in the target sectors.
What is the Distinguished Talent Visa?
The Distinguished Talent Visa is for individuals who are globally recognised for their exceptional achievement in a profession, sport, arts or academia and research. It is a visa that will allow you and your family to live in Australia permanently.
When applying for the visa, the Department will consider:
Your contribution – it must be of benefit to the Australian community, the Australian economy, the social, cultural standing of Australia or raise Australia's standing in academia, the arts or sport.
You must be internationally recognised, and you must be prominent in your field for the past two years.
You must able be able to show that you can find work in your area of expertise in Australia.
You must have a nominator. The nominator must have a national reputation in the same field as you.
How much does it cost?
Main applicant – $4,110
Dependent (under 18 years old) – $1,030
Dependent (over 18 years old) – $2,055
2020/21 Financial year
15000 spots have been allocated for the 2020/21 financial year which is 3 times more than the previous financial year.
Breakdown of grants for GTI visa in 7 target sectors. Statistics from the 2019-2020 Migration program Department of Home Affairs. The breakdown of grants per targeted sector were as follows:
Quantum Information, Advanced Digital, Data Science and ICT (28%)

MedTech (26%)

Energy and Mining Technology (20%)

AgTech (9%)

Space and Advanced Manufacturing (8%)

FinTech (6%)

Cybersecurity (3%)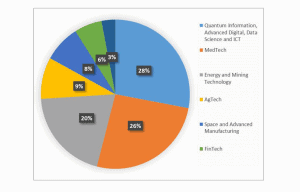 On 27 February 2021, the Distinguished Talent (subclass 858) visa was renamed to the Global Talent (subclass 858) visa.
From this date, a Distinguished Talent (subclass 124) or Global Talent (subclass 858) visa can be granted to eligible applicants who are in or outside Australia., This is provided they are not in immigration clearance when the decision is made.
There are two pathways in the Global Talent (subclass 858) visa:
For the Global Talent Visa pathway, potential candidates who have relevant skills and experience in a priority sector should refer to the Global Talent visa webpage for information about applying. Eligible candidates will be invited to apply for a Global Talent (subclass 858) visa, and are strongly encouraged to lodge the visa application at their earliest opportunity. Applicants must give their invitation details when they apply for priority processing through the Global Talent pathway.
Applicants ineligible for a Global Talent visa invitation are recommended to consider other visa options.
The Distinguished Talent pathway is subject to overwhelming demand and is only for the most exceptional and outstanding individuals. The average processing time for the Distinguished Talent program is 18-20 months.
The Global Business and Talent Attraction Taskforce
Last year, amid the global uncertainty fuelled by COVID-19, the Government launched a powerful blueprint for economic growth, with the JobMaker Plan a key tool to help turbocharge the Australian economy. As part of this effort to generate thousands of quality jobs for Australians, the Prime Minister set up the Global Business and Talent Attraction Taskforce. He has described their mission as "Australia's brain gain".
The Taskforce is a government initiative to bring the best and brightest businesses and talent to Australia. It targets high yield companies that can bring new technologies, cutting edge research and development, and IP and capital to our shores.
The Taskforce is targeting exceptionally talented individuals and experts at the top of their field who can drive innovation. It is engaging the most successful companies with high growth potential and highly skilled professionals in future-focused industries to come to Australia and develop their ideas here.
The Taskforce is facilitating the relocation of senior executives, company staff and their families with flexible visa arrangements to fast track their transition into Australia. It will connect them with industry and supportive business ecosystems to help them hit the ground running.
As of 27 February 2021, changes were made to improve Australia's competitiveness as a relocation destination and make it easier and faster for exceptional talent and high value businesses to relocate and contribute to Australia's post-COVID economic recovery.
The changes relating to the Global Talent visa (formerly known as the Distinguished Talent visa) include: an ability for the Taskforce to directly nominate suitable exceptionally talented candidates who will make a significant contribution to the Australian economy.
Additional changes introduced include a temporary work visa option to facilitate the rapid temporary deployment (up to 18 months) of critically skilled staff to Australia to establish a 'beach-head' for their business relocation. This visa option will be available through the Temporary Activity visa (subclass 408), Australian Government Endorsed Events stream, and Post COVID-19 Economic Recovery event. Up to ten visas will be available to the relocating business under this stream.
COVID- 19
Due to the COVID-19, the processing time for most visas and EOI have been delayed. Global Talent Officers posted overseas are now working in Australia.
Related:
Education sector
Some candidates for the GTVP have sought to demonstrate achievements in the Education sector by their academic appointments.
A senior academic and researcher appointment at Australian Academic Level D or E, or their international equivalents in fields other than Education, may be considered an indicator of internationally recognised record of exceptional and outstanding achievement in the Education sector. Candidates should provide evidence of publications, citations, patents, awards and/or other accolades.
Academics and researchers in fields other than Education below Australian Academic Level D, or its international equivalent, are only considered favourably if they have other exceptional and outstanding achievements in the field of Education.
PhD graduates
Candidates can continue to provide evidence of completing the academic requirements (prior to conferral) for a relevant PhD to demonstrate that they have an internationally recognised record of exceptional and outstanding achievement.
PhD graduates may be considered prominent in their area of academia and research for 3 years from the conferral date of the qualification. Decision makers also consider whether applicants have remained engaged in their field if they graduated more than 12 months prior to application.
PhD students
Relevant PhD studies, irrespective of graduation date, are now considered for the assessment of prominence in the area. PhD students must demonstrate that they have a prior internationally recognised record of exceptional and outstanding achievement in a priority sector.
Exceptional benefit for applicants under 18 or at least 55 years old
Applicants who are under 18 or at least 55 years old need to demonstrate that they would be of exceptional benefit to the Australian community.
Athletes and artists under the Distinguished Talent pathway
Guidance has been clarified in relation to assessing international recognition for athletes and artists applying for the Distinguished Talent (DT) pathway.
Eligible NZ citizen nominators must be onshore at the time of visa application
An Eligible New Zealand citizen is a New Zealand citizen who is a protected Special Category visa holder within the meaning of Section 7 of the Social Security Act 1991.
Special Category visas only remain valid while the holder is in Australia. New Zealand citizens outside of Australia are not holders of a Special Category visa and are not eligible to complete a Form 1000.
Target sectors and Specialisations for Global Talent Visa
This section provides examples of specialisations in each of the priority sectors. Specialisations listed here are not exhaustive and are representative only to provide an indication of what each sector covers for transparency.
For the purpose of prioritisation, consideration is given as to whether the candidate's achievements relate to specialisations articulated below in relation to the sectors. It is anticipated that novel specialisations will continue to emerge within the sectors for consideration of priority processing:
Resources
Advanced visualisation technologies, e.g. sensors;
Artificial intelligence and machine learning technologies;
Beneficiation technologies (improving the economic value of a resource such as ore.);
Expertise in energy saving technologies for extracting and processing ores, such as ore body mapping, geophysical tools and drilling, mineral refinement, automated trucks and robotic equipment or grinding and processing technologies; and
Resource waste management.
Agri-food and AgTech
Agricultural big data analytics;
Commercialisation experience within the industry;
Future proteins for human and animal consumption;
Food and beverage technology;
Individual technologies or a combination of technologies related to farm equipment, weather, seed optimisation, fertiliser and crop inputs, and irrigation;
Precision measurement and/or application of farm inputs such as nitrogen and pesticides, gene editing, nanomaterials and synthetic biology;
Predictive technologies around planting times, climatic forecasting and crop cycles; and
Wearable technology, including ear-tag trackers for animal management.
Energy
Advanced visualisation technology (e.g. sensors);
Artificial intelligence and machine learning technologies;
Automation and robotics (e.g. smart sorting technologies for recycling);
Beneficiation technologies (i.e. improving the economic value of ore);
Recycling technology (e.g. feedstock recycling or E-waste processing);
Traceability technologies, e.g. experience with sophisticated material trading systems that make material sources more transparent to consumers; and
Expertise with the following fields in the sector:

Hydrogen technology;
Clean technologies, renewables and hybrids (including solar and wind power);
Battery/energy storage design (specialised, grid-scale and precursors for batteries);
Bioenergy and biofuels;
Micro-grid design; and
Supporting the transition to net zero carbon emissions.
Health industries
Antimicrobial resistance;
Biochemistry and cell biology;
Biostatistician;
Biotechnology;
Biomedicine and Bioengineering;
Cell and gene therapies – genomics;
Clinical trials;
Digital health;
Health economists;
Implantable and wearable devices (e.g. 3D printed custom devices, bionics and prosthetics);
Infectious disease;
Medical devices;
Medical physicist;
Microbiology and immunology;
Nanotechnology and genomics;
Neuroscience and neurology;
Pharmaceuticals;
Precision medicine;
Point of care diagnostics; and
Regenerative medicine. 
Defence, Advanced Manufacturing and Space
Defence
Augmented and virtual reality;
Cyber Security;
Expertise in military equipment acquisition, sustainment and evaluation;
Robotics and automation; and
Sensors and analytics.
Advanced manufacturing
Advanced materials;
Additive manufacturing (3D printing), materials resilience and repair;
Artificial intelligence and machine learning;
Automation & Robotics;
Bio-manufacturing and biological integration;
Biotechnologies;
Digital design and rapid prototyping;
Digitisation and automation;
Nano-manufacturing and micro-manufacturing;
Precision manufacturing; and
Sustainable manufacturing and life cycle engineering.
Space
Aviation in space
Experience that would be of benefit to the National Civil Space Priority Areas:

Position, navigation and timing (PNT) infrastructure (global navigation satellite systems);
Earth observation technology and services;
Communications technologies and services (lasers for data communication, quantum technologies for secure communication, and hybrid radio and optical communications);
Space situational awareness and debris monitoring (including space traffic management);
Leapfrog R&D, which includes new rocket technology, high-tech materials, space medicine, synthetic biology, quantum communications, in-orbit servicing and optical wireless communication technologies;
Robotics and automation on Earth and in space;
Access to space, which includes international space missions and launch activity;

Engagement with international space and astronomy regulatory bodies.
Circular economy
Artificial Intelligence and digital technologies;
Bioenergy generation;
Bio-methane production;
Commercialisation experience within the industry;
Development of sustainable production and supply chain practices that reduce atmospheric land and marine pollution;
Energy infrastructure;
Recycling and responsible manufacturing to support industries (plastics, paper, glass, tyre components, e-waste and lithium batteries);
Reducing emissions and increasing efficient use of natural resources (including energy, water and materials);
Waste treatment (management and reuse) and emissions technology; and
Waste to Energy (WtE) technology (the ability to generate reliable baseload electricity that is also capable of diverting waste away from landfill and reducing carbon emissions).
Digitech
Artificial intelligence (AI) and machine learning;
Automation;
Big data;
Blockchain technology;
Cloud computing;
Cyber security detection, prevention and response services;
Data and eResearch infrastructure;
Data management and analysis;
Data science;
Disruptive technologies;
Front-end development;
Internet of Things;
IT integrated with control systems for plant and machinery;
Machine learning engineering;
Network engineer/architect;
Quantum information and computing;
Robotics;
Senior experience in developing and producing digital games and immersive technology;
Smart cities;
Smart tech;
Software and product management/development;
Start-ups and Entrepreneurs in the industry;
Systems integration; and
3D printing.
Infrastructure and tourism
Infrastructure
Potential or ability to:
drive economic development in regional communities;
develop gateways to support Australia's international competitiveness;
improve and expand Australia's energy infrastructure; and
improve water security across Australia.
Tourism
Potential or ability to:
increase the economic benefits to Australia from tourism;
target high value travellers in the markets and tourism segments that deliver the greatest returns; and
foster a sustainable and innovative tourism industry.
Financial services and FinTech
Automated and predictive financial advice;
Blockchain technology;
Commercialisation experience within the industry;
Digital wallets;
Financial advice (e.g. automated and digital);
Financial data analytics, compliance and 'RegTech';
Micro-savings;
Next generation lending, investment and wealth management;
Online banking; and
Platform banking and payments (e.g. contactless).
Education
Cutting edge innovation within the Education sector
Research and education infrastructure planning;
Characterisation (Technologies in advanced microscopy and microanalysis that underpin modern science, medicine, engineering and industrial innovation);
Digital Data and eResearch Platforms; and
Platforms for Humanities, Arts and Social Sciences.