Visa Options to Migrate to Queensland
Queensland has long been a destination chosen by many migrants when they come to Australia. With a high standard of living, Queensland boasts:
a stable economy
affordable housing
world class education and advanced health services
modern roads and public transport infrastructure
a safe environment for you and your family to live
perfect beaches, national parks, and the outback experience
a subtropical and tropical climate
a vibrant cosmopolitan, arts, and cultural scene
an eclectic mix of friendly cultures ready to make you feel at home
it is the only state in Australia with six international airports.
There is a wide range of visa options available for migrants to move to Queensland, depending on their particular situation.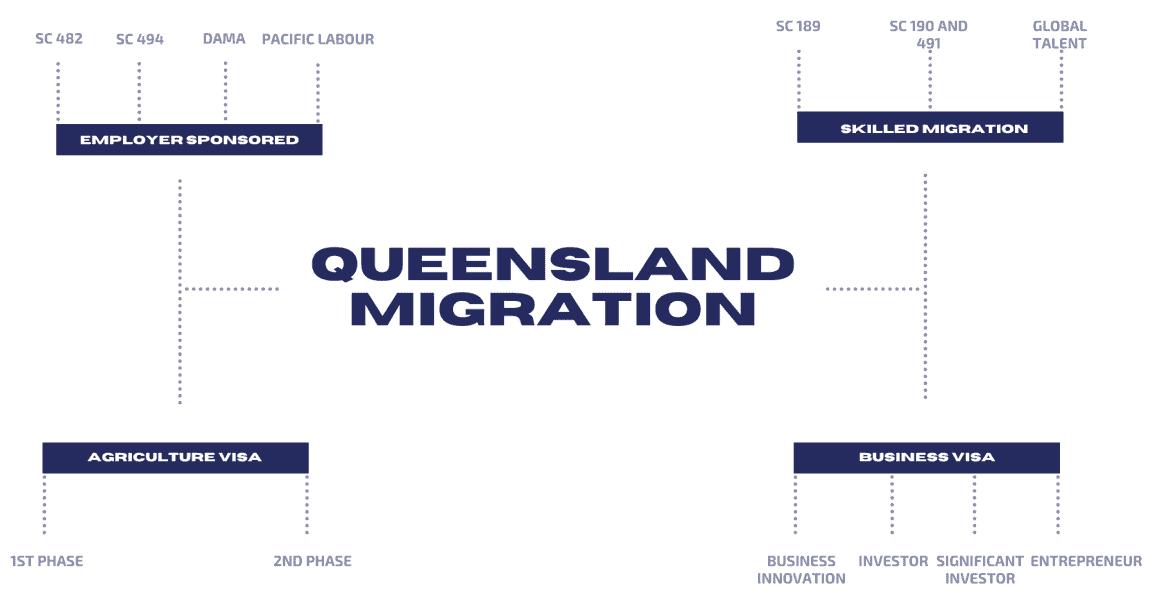 TEMPORARY EMPLOYER SPONSORED VISA
Skilled Employer Sponsored Regional (Provisional) visa (subclass 494)
You need to have an eligible employer in Queensland to sponsor you under 494 visas. You and your employer will need to meet the following requirements.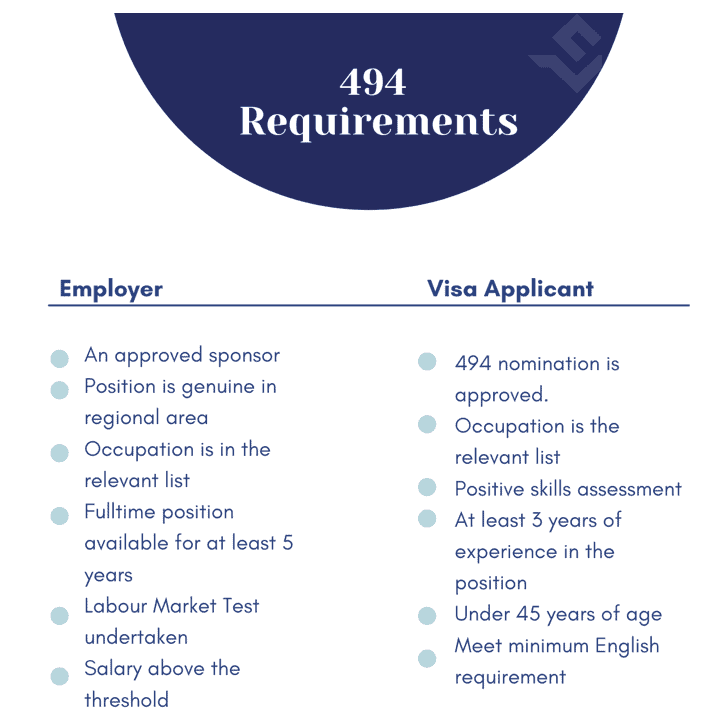 Visa subclass 494 is a pathway to visa subclass 191, which is a Permanent visa if you meet certain requirements in 3 years. For more information about Visa subclass 494, please click here.
 Temporary Skill Shortage visa (subclass 482)
Visa subclass 482 is a popular option for migrants who do not meet the requirements of subclass 494 or other permanent visas. There are also more occupations eligible for this type of visa compared to that of subclass 494.
To be eligible for this visa, you and your employer must meet the following requirements: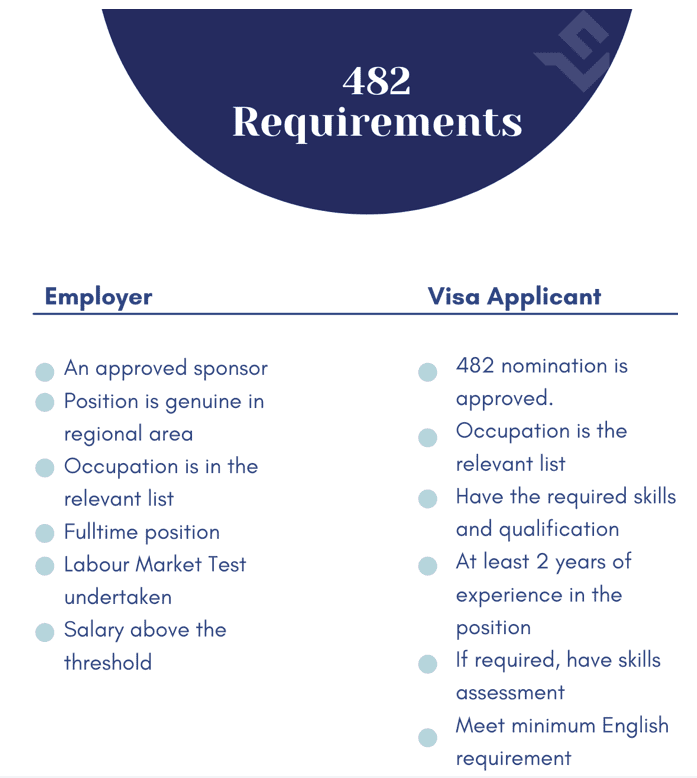 For more information about visa subclass 482, please click here
482 TSS Visa And Subclass 494 Employer Sponsored Regional Visa Comparison and Permanent Visa Pathways
Labour Agreement
Labour Agreements enable approved businesses to sponsor skilled overseas workers when they have a workforce shortage that cannot be met by Australian workers or standard visa programs.
There are five types of Labour Agreements: Industry Specific, Company Specific, Designated Area Migration Agreement (DAMA), Global Talent Employer Sponsored (GTES) and Project Agreement.
Industry Specific – terms and available concessions are agreed by Government at an industry level. Currently the following industry agreements are in place: Dairy, Fishing, On-hire, Meat, Pork, Restaurant (fine dining), Minister of Religion, Advertising and Horticulture.
Company Specific – terms and concessions are negotiated on a case-by-case basis.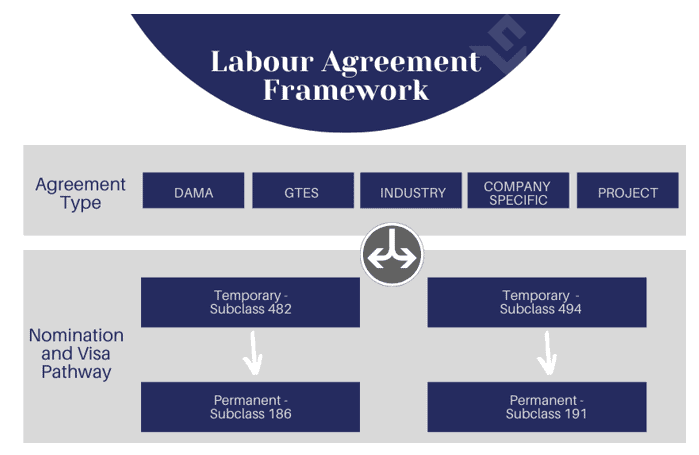 Designated Area Migration Agreement (DAMA)

A DAMA is an agreement between the Australian Government and a regional, state or territory authority known as a Designated Area Representative (DAR).
It provides access to a broader range of overseas workers than the standard skilled visa programs, to fill recognised labour shortages in specified areas.
DAMAs may offer concessions for visa criteria, such as English language, salary, skills and age requirements.
Each agreement has a skilled occupation list specific to the DAMA which can be varied in accordance with identified labour market needs.
DAMAs are designed to assist industries such as agribusiness, hospitality & tourism, health, construction & mining, defence, space, and innovation.
For more information about the Labour Agreement scheme, please click here
Pacific Labour Mobility Programs
Pacific Labour Scheme
The Pacific Labour Scheme is for residents of specified Pacific Island countries and Timor-Leste to work in low and semi-skilled positions across all sectors of rural and regional Australia for up to three years.
The Pacific Labour Scheme is led by the Department of Foreign Affairs and Trade (DFAT).
Applicants must be endorsed by DFAT to participate in the Program and be invited by an Australian employer endorsed by DFAT.
Employers must also apply to the Department of Home Affairs to become a Temporary Activities Sponsor.
Seasonal Worker Scheme 
The Seasonal Worker Program is for specified Pacific Island nations and Timor-Leste to send seasonal workers to work in unskilled or low-skilled positions within the industries of horticulture and agriculture nationally and accommodation in selected areas for up to nine months a year.
The Seasonal Worker Program is led by the Department of Education, Skills and Employment.
Employers must apply for approval from the Department of Education, Skills and Employment to be an 'Approved Employer' and enter into a Deed of Agreement with the Department.
Employers must also apply to the Department of Home Affairs to become a Temporary Activities Sponsor.
Australian Agriculture Worker visa
On 23 August 2021, the Government announced the Australian

Agriculture Worker visa

to address workforce shortages in the agriculture sector.
This visa is being designed for primary industry sectors including:
Horticulture
meat processing
dairy
wool
grains
fisheries (including aquaculture)
forestry
For more information about the Agriculture Visa, please click here.
Skilled Migration to Queensland
If you have skills and qualification in an occupation that is in relevant list, you might as well think about obtaining an Australian visa through Skilled Migration pathway.
Benefits of seeking Queensland nomination
With State Nomination you are not tied to a single employer.
Queensland employers are required to offer:
+ the same work rights and conditions as an Australian citizen.
+ safe working environment.
+ entitlements including public holidays and annual leave
To learn more about different types of Skilled Migration visa in Queensland, please refer to our article below
Global Talent Visa
Australia's Global Talent programs aim to bring highly talented individuals who will create opportunities by bringing in their cutting-edge skills to contribute to Australia's economy by driving innovation and supporting the creation of local jobs.
Key features
Streamlined and fast-tracked visa pathway
Permanent Residency (PR) for applicant and family to live and work anywhere in Australia
No formal employer sponsorship obligations
No State or Territory planning level restrictions
No age limit to apply (55s and over need to demonstrate a higher level of prominence)
For more information about Global Talent visa, please refer to our below articles:
Queensland Business Nomination Program
The program offers you an opportunity to join our community and contribute to Queensland's economic growth and industry development.
You must seek State/Territory Nomination if you intend to apply for Business Innovation and Investment visa (subclass 188).

Four visa streams:

Business Innovation
Investor
Significant Investor
Entrepreneur
Below is the requirements of the two most popular business visas in Queensland:
Visa 188A – Business Innovation Stream
A$1.25 Million in total assets ready to be transferred to Queensland comprising:
Minimum business investment of $400,000 in the Greater Brisbane and Gold Coast regions, or
Minimum business investment of $300,000 in regional Queensland.
Property Development business will not be accepted.
Export businesses must develop international markets for Queensland products.
General importing businesses will not be accepted (unless value adding).
Must demonstrate a genuine commitment to Queensland.
Visa 188B – Investor Stream
Must have net business and personal assets of at least A$3 million ready to be transferred to Queensland, Australia (including A$2.5 million for Complying Investment and A$500,000 for Settlement in Queensland).
Must invest according to the Complying Investment Framework
20% in Venture Capital & Growth Private Equity funds (VCPE) that invest in start-ups and small private companies.
30% in approved managed funds that must invest in emerging companies listed on the Australian Stock Exchange.
50% in balancing investments of managed funds.
After holding this provisional visa for 3 years, you may be eligible to apply for the permanent residency (subclass 888 visa). The 188 – Investor stream cannot be extended.
Fore more information about Business Visa in Queensland, please click here