Fast Track PR- Global Business and Talent Attraction Taskforce
Australian Global Business & Talent Attraction Taskforce – The agency that helps to fast track your permanent residency
Australia has always been the top choice for global business and individual talents due to its famous lifestyle, stable economy, healthcare system, career prospects and safe environment. The nation has designed various visa programs to attract highly skilled workers from all over the globe to come, live, work and enjoy life in Australia. Besides some general skilled migrations programs, as you may already know, there are Global talent visas for exceptional talents in particular fields, and business and investor visas for high calibre business owners and investors. These programs have proven its effectiveness through out the last couple of years in improving the quality of Australian workforce, increasing number of business and investment in the country, and consequently, more jobs have been created.
However, not many people are aware of the existence of the Global Business & Talent Attraction Taskforce. This government body is established to help high-yield businesses and exceptional talents to fast track their visa applications, connect with professional networks, advice on businesses plans and career, and settle in Australia.
About Global Business & Talent Attraction Taskforce
The Global Business and Talent Attraction Taskforce (the Taskforce), a cross-agency, Australian Government initiative, was established to attract proven enterprises and entrepreneurs along with their ideas, networks, and capital. Its ultimate goal is to help general quality jobs for Australians.
The Taskforce is looking for businesses that can build clusters or ecosystems of excellence in priority sectors, conduct cutting-edge research and development, and fill gaps in supply chains. They give priorities to enterprises and individuals who will drive innovation and job creation by:
partnering and co-investing with Australian enterprises.

helping Australian firms expand into global markets.

creating exciting new ventures.

building Australia's skills base.

developing a deeper pool of intellectual and creative capital.

building national resilience by filling gaps in critical supply chains.
Eligibility
The Taskforce offers fast tracked visas and support packages for senior executives, company staff and their families, as well as individuals with exceptional talent.
To be eligible for the support from the Taskforce, businesses and individuals must meet the below criteria: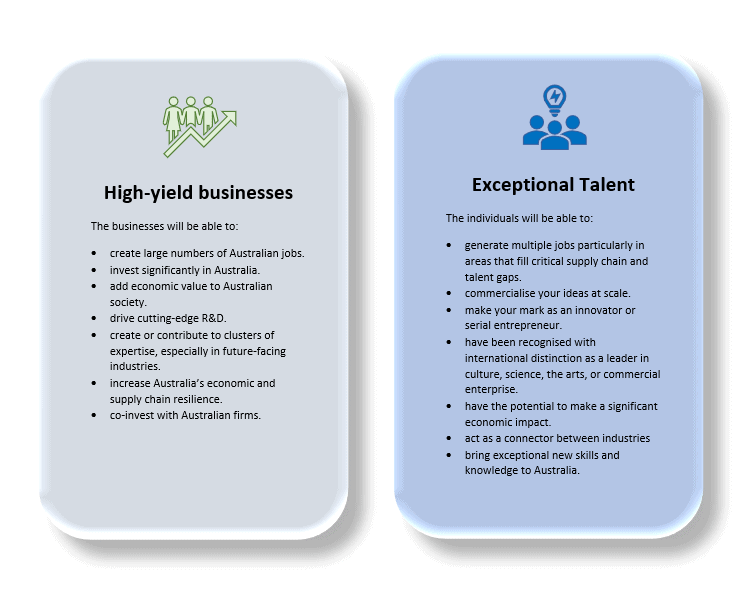 High-yield businesses
Looking to relocate or expand into Australia?
Is your existing enterprise already riding high on success?
You will be assessed based on your capability to:
create large numbers of Australian jobs
invest significantly in Australia
add economic value to Australian society
drive cutting-edge R&D
create or contribute to clusters of expertise, especially in future-facing industries
increase Australia's economic and supply chain resilience
co-invest with Australian firms.
And you'll need to be able to do all this at scale.
Exceptional talent
Professionals with the drive to succeed and make a difference.
Are you making waves as a leader in your field?
You'll tick the boxes if you've demonstrated your ability to:
generate multiple jobs particularly in areas that fill critical supply chain and talent gaps
commercialise your ideas at scale
make your mark as an innovator or serial entrepreneur
have been recognised with international distinction as a leader in culture, science, the arts, or commercial enterprise
have the potential to make a significant economic impact
act as a connector between industries
bring exceptional new skills and knowledge to Australia.
Eligible businesses and individuals must be in the following sectors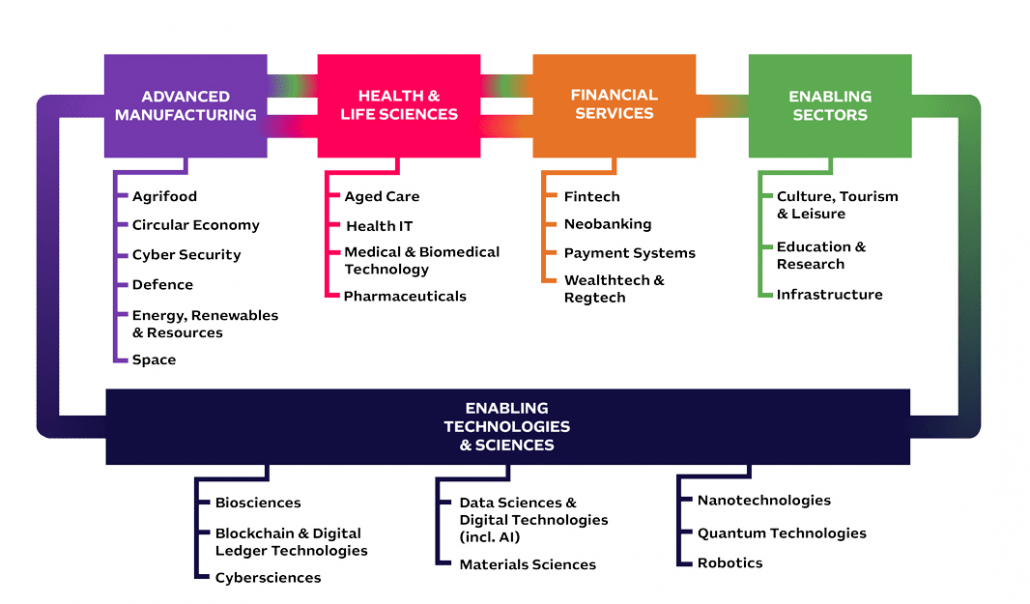 Supports you will have from the Taskforce
If eligible, the Taskforce will help you and your immediate family members to:
Fast track visas with a streamlined path to permanent residency
As an Australian Government initiative, they can guide you to the best visa options so you can rapidly and seamlessly start work in Australia. They'll facilitate the relocation of executives, your immediate families and critical staff.
If you're heading up a business, or are an exceptional individual, you may qualify for Global Talent visa. This gives you and your immediate family the certainty of permanent residency.
If you need to relocate key staff to Australia from overseas to establish your business, the Temporary Activity visa for post-COVID economic recovery will help to get them here quickly.
Facilitating business relocation
They'll provide tailored advice to help kick start your Australian venture and support you from the moment you decide to move until you're well and truly operational.
Connections to essential industry and professional networks
You will be introduced to the local networks which will help you in your business and career in Australia.
If you think you are eligible for the supports from the Taskforce, please contact us to have your situation assessed.
If you are not eligible for this, you may still apply for the Global Talent visa or Business and Investor visas in a normal way.