Queensland 190 visa now open
IMPORTANT ANNOUNCEMENT –
Update on the Migration Queensland Program Opening for FY2022-23
The Migration Queensland (MQ) Program
will open on 16 August 2022 with Queensland's new nomination criteria and factsheets published on the MQ website (16 August 2022, not available until then):
Skilled Migration Program:
Migration Queensland will only accept a brand new
EOI
submitted on Skillselect from the
16 August 2022
, updating existing EOI's submitted prior to the 16 August 2022 will not be invited. Please ensure you have carefully read and understood the new criteria relevant to your stream or pathway, and that you meet criteria before submitting an Expression of Interest (EOI).
This 2022-23 financial year Skilled Migration Program will be open to both
onshore
and
offshore
applicants, and provide pathways for skilled workers, graduates, and small business owners.
Business Migration Program:
Please note: that Queensland State nomination is a highly competitive program and not everyone will be invited for nomination. Please ensure you consult with a Registered Migration Agent/Lawyer to explore all alternative migration options.
—
Exception: If you are a 491-SBO applicant and have submitted your EOI and 491-Small Business Owners Assessment Form via our website by 6 May 2022, you will still receive an invitation, however, given the large demand for this pathway the processing time may be up to 8–12 weeks.
For those who have not submitted an EOI and 491-Small Business Owners Assessment Form for the 491-SBO by Friday 6 May 2022, you will need to submit a new EOI and form when the 2022–23 Skilled Program opens next financial year.
—
Skilled Nominated (Permanent) visa (subclass 190) – This visa is for onshore skilled workers and Queensland PhD graduates who wish to live and work in Queensland permanently.
Skilled workers living in Queensland
Eligibility criteria
To be eligible for a Queensland nomination, you must meet both the Australian Department of Home Affairs criteria and Migration Queensland criteria for your chosen visa category.
Home Affairs criteria requires you to:
have a points-test result of 65 or higher, inclusive of state nomination points;
have a positive skills assessment in your nominated occupation;
be under 45 years of age;
meet the minimum English language requirement of competent, unless a higher level is required by your assessing authority; and submit additional documents, if invited to lodge an application for a 190 or 491 visa.
Migration Queensland criteria requires you to:
have a points-test result of 80 or higher for 190, and 65 or higher for 491 (please note that Migration Queensland will be selecting from the highest points for each occupation). 

have an occupation on Home Affairs' relevant list of eligible skilled occupations.
have 

Proficient English (IELTS 7 in all bands or equivalent).

If you are lodging an Expression of Interest for a 190 visa:

 Provide evidence of

full-time post-qualification employment

(minimum of 35 hours per week) over the past

 6 months

 in Queensland in your nominated occupation immediately prior to submitting your EOI.
provide evidence of ongoing employment with a Queensland employer that is registered in Queensland for a

further 12 months

(minimum of 35 hours per week). For a 491 visa, this must be ongoing employment in a regional area.
commit to living and working in Queensland for 2 years for a 190 visa and 3 years for the 491 from visa grant.
Please note: Businesses must have an office in Queensland. A virtual office will not be accepted.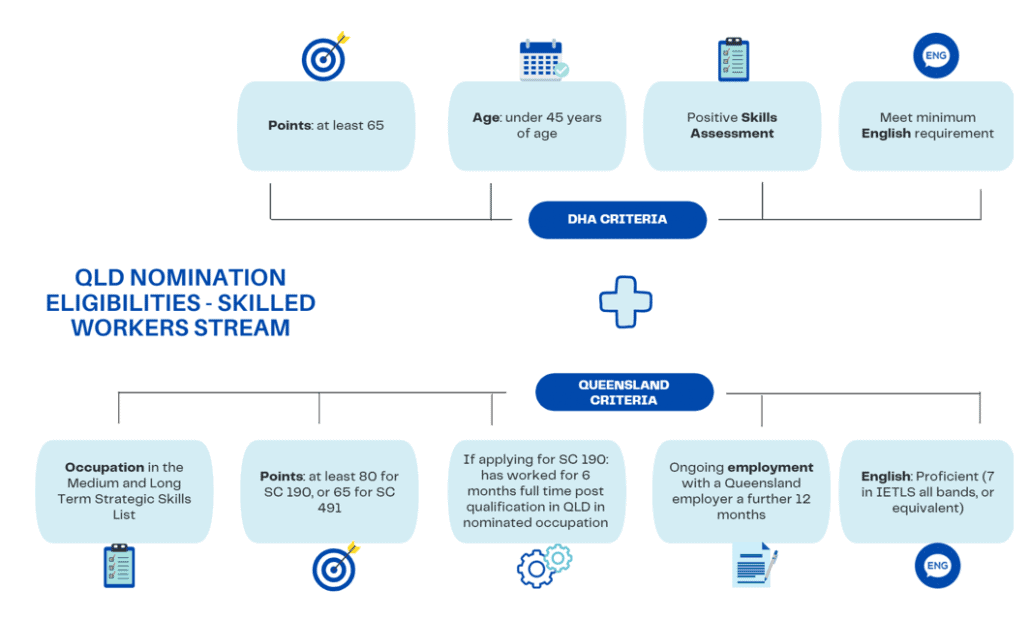 Related:
Further Selection Process Summary
Quotas for specific occupations with a high level of applications (table below).
Occupation grouping

Occupations

Quota

Finance
Accountant (General), Finance Manager, Management Accountant
50 each

150 total

Engineers
Civil Engineer, Mechanical Engineer, Electrical Engineer, Engineering Technologist
50 each

200 total

ICT
Software Engineer, Developer Programmer, ICT Business Analyst, Software & Application Programmers NEC
50 each

200 total

Quantity Surveyor
Quantity Surveyor
30 each/total
Nurses
Aged Care, Critical Care & Emergency, NEC nurses
50 each

150 total

Trades
Motor Mechanic, Cook
30 each

60 total
Caveats for Selected Occupations
Accountants (General)

preference will be given to applicants employed in an accounting firm
must be a CPA or are studying towards become a CPA.

Internal and External Auditors

must have a job as an Auditor (not an Accountant).

Cooks and Chefs

No takeaway or fast-food businesses.
Labour hire employment
If you are employed through a labour hire company, make sure that they are registered in Queensland. All labour hire providers operating in Queensland must be licensed under the Labour Hire Licencing Act 2017, including those based interstate or overseas who supply workers in Queensland.
You will be required to provide evidence that your labour hire company complies with these registration requirements. Your Statement of service must be written by the company you have been placed within.
Graduates of a Queensland university
This pathway is for high performing graduates, who have graduated from a Queensland university from a Bachelor's Degree, Master's Degree or PhD, and are currently onshore in Queensland.
PhD Graduates (190 and 491)
Have an occupation on this list
Finished 100% of course in Queensland and has had a decision on thesis or graduated in the last

2

years
No job required
Related:
Application process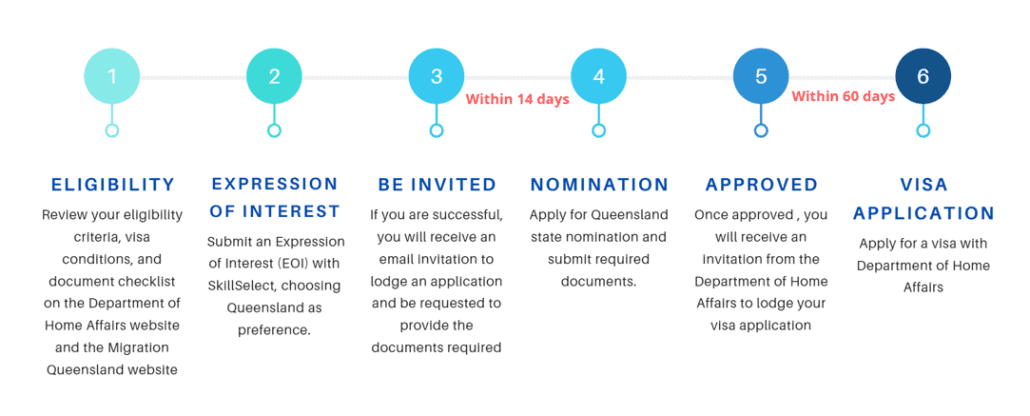 Step 1
Review your eligibility criteria, visa conditions, and document checklist on the Department of Home Affairs website and the Migration Queensland website. Ensure that you meet both the Home Affairs Immigration Eligibility Criteria and Migration Queensland criteria and that you have all your documentation – including proof of registration, if required for your occupation – ready before you apply.
Step 2
For Queensland state nomination, submit an Expression of Interest (EOI) with SkillSelect. Ensure that all information, such as work experience, is included in your EOI. Preference will be given to applicants who select "Queensland" as their nominating state.
Step 3
Migration Queensland assesses all EOIs that meet the above Home Affairs Immigration Eligibility Criteria and Migration Queensland criteria. If you are successful, you will receive an email invitation to lodge an application and be requested to provide the documents required.
Step 4
When you have received your invitation from Migration Queensland you must provide the required documents, and pay the relevant application fees
Note: You will be given 14 days to finalise your application from the date of invitation. Applications not finalised within the time frame will be closed and you will need to submit a new EOI if you wish to seek Queensland nomination again.
Step 5
Once Migration Queensland has received and approved your completed application, you will receive an invitation from the Department of Home Affairs to lodge your visa application. You will be given 60 days to lodge your application with them.
Note: If you realise that you have made a mistake on your submitted EOI after receiving a nomination, or if you miss the lodgement date, you will have to wait 6 months before applying again.
Select a state below to see it's 190 visa requirements:

Australia
State and territory requirements