Visa Options
Your potential options as a Cook could be the below visas. This is subject to meeting other visa requirements.
What are your pathways to PR as a Cook?
After completing your diploma, you have various options.
Subclass 407 Visa
The 407 visa allows you to complete work-based training.
You are required to have a sponsor who can provide the training. The training types must either be:

Occupational training to improve skills for a cook.
Occupational training for capacity building overseas is for overseas students who want to complete a placement in Australia.

Meet health and character requirements.
Employer-Sponsored Visa Options
The employer you choose to work for is important. They are required to meet the following caveats:
The position cannot be involved in mass production in a factory setting.
The position must not be in a limited-service restaurant.

Limited-service restaurants include:
fast food or takeaway food services
fast-casual restaurants
drinking establishments that offer only a limited food service
limited service cafes including, but not limited to, coffee shops or mall cafes
limited-service pizza restaurants.
Your role in the restaurant is equally important. The difference between the occupations of cook and cooks is made based on 2 main elements:
the specific tasks of the nominated position and corresponding skill level; and
the work environment
Fundamentally, a cook's primary role is one of cooking, whereas that of a chef is managing the kitchen with some limited, specialised cooking tasks. Some of the duties of a cook are:
Examining foodstuffs to ensure quality

Regulating temperatures of ovens, grills and other cooking equipment

Preparing and cooking food

Seasoning food during cooking

Portioning food, placing it on plates, and adding gravies, sauces and garnishes

Storing food in temperature-controlled facilities

Preparing food to meet special dietary requirements

May plan menus and estimate food requirements
Fundamentally, a cook's primary role is one of cooking, whereas that of a cook is managing the kitchen with some limited, specialised cooking tasks.
If you have a sponsor, you may be eligible to apply for these visas:

Be under

45 years

old.
Have at least

3 years of working experience

as a Cook
Have a positive

skills

assessment.
Have at least

Competent

English.
Meet health and character requirements.
You can apply for permanent residency after 3 years through the 191 visa.
General Skilled Migration
If you have the relevant skills and experience, you may consider applying for Skilled Migration visas such as Subclass 190 or Subclass 491.
These visas are point-tested, and the minimum point to apply is 65 points.
Points will be given to you based on the following:
Age

Educational Qualifications
For Subclass 190 and Subclass 491, there are state/territory nominations. Depending on the states/territory, the criteria may differ. These criteria change all the time, thus is it important always to check the latest rules.
Related: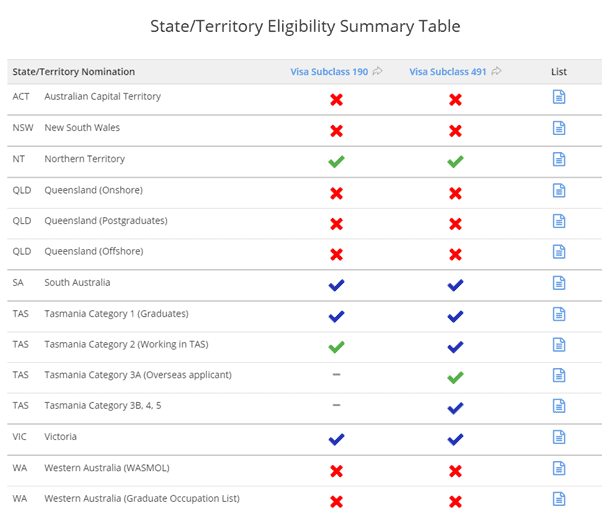 Skills Assessments
TRA Cook Skills Assessment
Depending on your level of experience and qualifications, you may be eligible for the TRA Job Ready Program or the Migration Skills Assessment (MSA)
TRA Job Ready Program
It is an employment-based program. Upon completing the Job Ready Program, you will be given a successful skills assessment in your occupation.
The different stages involved are:
Provisional Skills Assessment (PSA)

Complete 360 hours of employment and/or vocational placement.

Job Ready Employer (JRE)

Complete at least 1725 hours of paid employment over 12 months.

Job Ready Workplace Assessment (JRWA)

Complete paid employment for at least 863 hours over at least 6 months from your JRE start date.

Job Ready Final Assessment (JRP)
Migration Skills Assessment
This is for an applicant who requires a skill assessment as a Cook. To be eligible, you must:
Have a qualification related to the nominated occupation (Cook)
Have at least 3 years full time or equivalent part-time employment undertaken after the qualification was issued.
You must provide pay documents to substantiate your employment claims.