Which countries do Business Migrants come from?
Visa Grants (132 visa)
The Department of Home Affairs in 2020 released details about the top source countries for business visa. Among them include China, Vietnam, Malaysia, South Africa, Singapore, and Hong Kong for SC 132 Visa.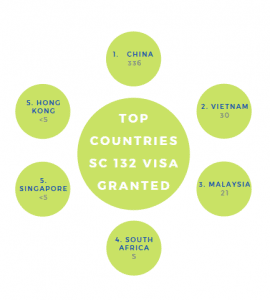 Visa Grants (188 visa)
For SC 188 Visa, the top countries include China, Iran, Vietnam, India, Malaysia, and Hong Kong.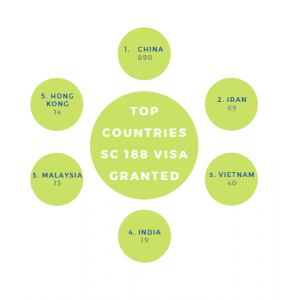 Visa Refusals
Data also revealed the number of business visa applications that were refused in the 2018-19 period, per source country. China had the most refusals for both SC 132 and SC 188 Visa, with over 50 and 89, respectively. Following China, other countries with high refusals include South Africa, Vietnam, and Singapore for SC 132 Visa. For SC 188 Visa, Iran had 35, Bangladesh 16, India 12, and Pakistan 10 refusals.
Visa Withdraws and Cancellations
In addition, the Department of Home Affairs has also revealed that China has the most business visa withdrawals while other countries such as Vietnam, India and South Africa had less than 5 SC 132 Visa withdrawals in the 2018-19 period.  For SC 188 Visa withdrawals, China is first on the list followed by Vietnam, Iran, Bangladesh, and Malaysia.  China is also the only country with business visa cancellations during this period.