Where do International Students to Australia come from?
Every year, many students choose Australia to be their number one education destination. International students bring approximately $39 billion per year into the economy, making international education the fourth-largest industry in Australia. So which countries do students come from and where do they study?
Enrolments
Most international students are enrolled in higher education, but we have international students across all different education sectors. Data from the Australian Trade and Investment Commission revealed that 53% of international students are enrolled in higher education followed by 27% of students in VET. 12% of international students are involved in ELICOS, 4% in non-award and 3% in schools.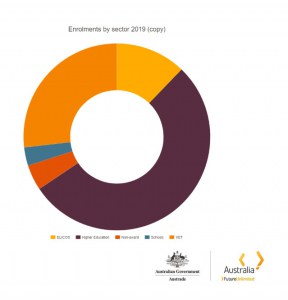 Higher Education
Most higher education students come from China. The data indicated that 39,914 student visas were granted to Chinese nationals. This is followed by India, Vietnam, Sri Lanka, and Indonesia for the 2018-19 period.
Vocational Education and Training Sector
During this period, most students who were granted a visa in vocational education and training sector were from Nepal. 6,230 Nepal citizens were granted a student visa. Following on from Nepal, Brazil, India, China, and Philippines also have high student visa approval rate in this sector.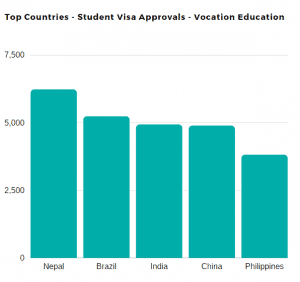 Top Countries – Student Visa Approvals – Other Sectors
In total there were 48,681 students from China. This is followed by 35,789 students from India, 16,695 students from Nepal and 11,011 students from Brazil. 8,386 student visas were approved for Colombian citizens during the 2018-19 year.