If you are looking to travel to the United States temporarily as a visitor, you will need to obtain a nonimmigrant visa. There are three types of nonimmigrant visitor visas:

B-1 Business Visitor Visa
This visa type allows for individuals to travel to the United States to engage in the following activity:
Consult with business associates
Attend a scientific, educational, professional, or business convention or conference
Settle an estate
Negotiate a contract
B-2 Tourism Visitor Visa
This visa type allows for individuals to travel to the United States to engage in the following activity:
Tourism
Vacation (holiday)
Visit with friends or relatives
Medical treatment
Participation in social events hosted by fraternal, social, or service organisations
Participation by amateurs in musical, sports, or similar events or contests, if not being paid for participating
Enrollment in a short recreational course of study, not for credit to ward a degree (e.g. two day cooking class while on vacation)
The nonimmigrant visitor visas cannot be used for the following travel purposes:
Study
Employment
Paid performances, or any professional performance before a paying audience
Arrival as a crewmember on a ship or aircraft
Work as foreign press, in radio, film, print journalism, or other information media
Permanent residence in the United States
If you are travelling for one of the above reasons, you must obtain the relevant visa type for that purpose.
General Overview of the Application Process
Online visa application – Form DS-160
Attend an interview – Interviews are required for all ages from 14-79, if you are outside of this age range interviews are generally not required
Visa Application Fee – $160 USD
Please note: if your visa is approved you may also be required to pay a visa issuance fee if applicable to your nationality
Required documentation

Passport
Form DS-160
Application Fee
Photo
Additional documentation i.e. evidence of the purpose of your trip, intent to depart the US at the end of your trip, financial capability
Other Types of Nonimmigrant Visitor Visas
There are also Transit Visas available to travel into the United States as a nonimmigrant visa. However, there are less common.

Transit C Visas
This visa type is primarily for foreign nationals who are travelling through the United States to another country, and they intend to have a brief stop over in the US. This usually forms part of their travel to the next foreign destination.
Transit C-1, D and C-1/D Visas
These visa types are for crewmembers of sea vessels or international airlines that are travelling to the United States. These visas are intended for transit travel.
Waiver Program for Tourists and Business Travelers
If you are an international traveler looking to travel to the United States as a visitor either for the purpose of business or tourism, you may be eligible for a visa waiver.
To be eligible, you must be a citizen of one of the 39 countries who participate in the United States Visa Waiver Program (VWP).
If you intend to travel to the US through the VWP, you must obtain an approved travel authorization prior to embarking on your trip. International travelers who are approved to travel to the United States under the VWP can stay for up to 90 days without a visa.
The following countries participate in the VWP:
| | | |
| --- | --- | --- |
| Andorra | Hungary | Norway |
| Australia | Iceland | Poland |
| Austria | Ireland | Portugal |
| Belgium | Italy | San Marino |
| Brunei | Japan | Singapore |
| Chile | Korea | Slovakia |
| Croatia | Latvia | Slovenia |
| Czech Republic | Liechtenstein | Spain |
| Denmark | Lithuania | Sweden |
| Estonia | Luxembourg | Switzerland |
| Finland | Malta | Taiwan |
| France | Monaco | United Kingdom |
| Germany | Netherlands | |
| Greece | New Zealand | |
To apply to travel to the US under the VWP: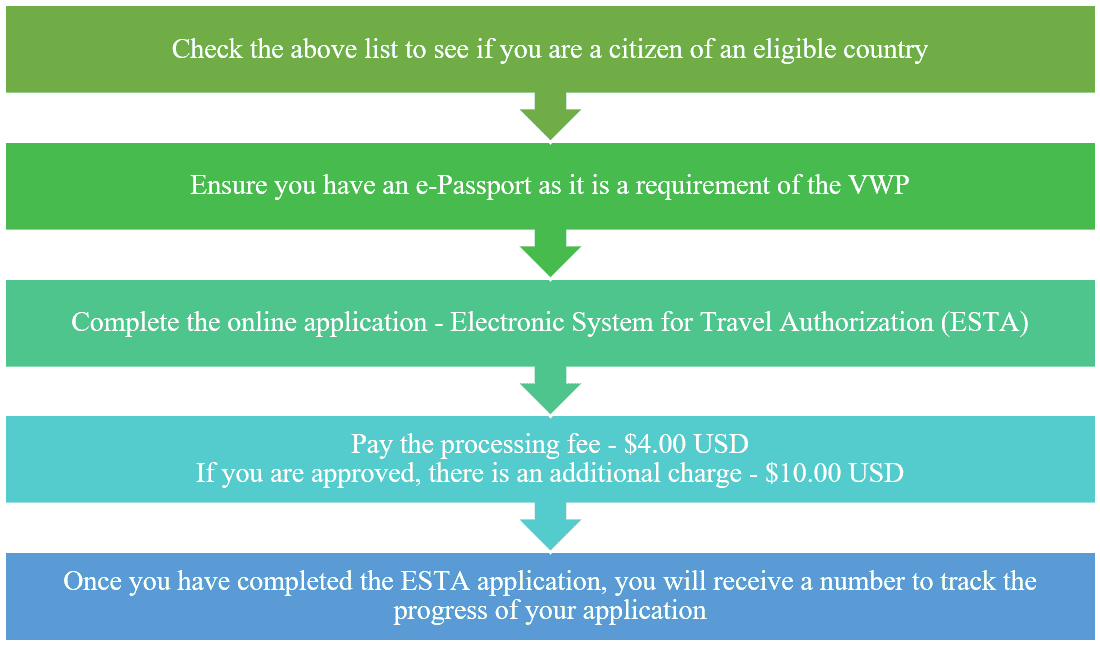 J-1 Exchange Visitor Visa
For those travelling to the United States from Australia, the J-1 Exchange Visitor Visa is the most common visa type. The J-1 Exchange Visitor Visa allows international travellers from Australia to travel to the United States to work or study. For further information about this visa, click here.
If you would like assistance with applying for a US Visitor Visa or to discuss your options, please book a time here.