Study in Australia vs the United Kingdom
International students are often in a dilemma when it comes to which country they should choose to study abroad. This decision must be made according to their personal preference, courses chosen, career path, end goal, countries' climate, culture, security, tuition fees, living costs and if the end goal is getting permanent residence, the immigration program in that country.
Australia and the United Kingdom are among the most popular destinations for international students in the last decades. Therefore, we have put together a comparison of these two countries for international students to consider depending on their ultimate goals.
Key points of comparison
This table highlights some key features of the two countries, and details will be discussed further later in this post.
 

Australia

United Kingdom

Quality of Education

43 universities and hundreds of education institutes
160 universities and colleges

Popular Courses

Engineering, Medicine, Veterinary Science, Architecture, Agriculture, Law, Accounting, MBA, Health Care, Information Technology, Computer Science, Media, Education, Commercial Cookery and Hotel Management
Business, art and design, music or engineering

Cost of Education

From

AUD 7,800 to AUD 42,000

(from school to higher education)
From

AUD 17,000 to AUD 21,000

per year

Living Expenses

At least AUD 21,041/ year
Around AUD 22,000/ year

Climate and Weather

Hot and Dry
Rain and cold

Student Visas

Can include spouse and dependants.

Students can work 40 hours per fortnight, and unlimited hours in semester break

Spouse and dependants might be included if you study eligible courses.

Students can work 20 hours/ week while you are studying.

After Graduate visas

Can apply for post graduate visa for up to 6 years, depending on the course of study
Can apply for Post study visa for up to 3 years (start from July 2021)

PR Pathway

Various visa pathway for students, long occupation lists
PR pathway for students is more limited compared to that of Australia.
Quality of education
Australia
Higher education courses can be taken to earn an advanced degree and continue your studies in Australia. There are three main types of higher education which lead to Bachelor, Master and Doctoral Degrees.
In Australia it is quite common for students to enrol in a double or combined Bachelor's Degree program which leads to the award of two Bachelor Degrees. This is most common in the fields of arts, commerce, law, and science.
There are 43 universities in Australia (40 Australian universities, two international universities, and one private specialty university). Along with our universities, many other institutions offer higher education courses. You can search for institutions and courses using the Institution and Course Search on this website.
World top Australian Universities (Ranking 2021):
The Australian National University (Canberra) – Rank 31
The University of Sydney (New South Wales) – Rank 40
The University of Melbourne (Victoria) – Rank 41
The University of New South Wales (NSW) – Rank 44
The University of Queensland (Queensland) – Rank 46
Monash University (Victoria) – Rank 55
The University of Western Australia (Western Australia) – Rank 92
United Kingdom
United Kingdom has over 160 universities and colleges that offer various courses and study options. You can study almost all majors in the UK. Its education is, however, famous for business, music, art and design, and engineering.
The world rankings of UK universities are generally higher than these of Australia. The UK has 3 universities in the top ten universities in the world.
While Australia is more flexible for you to change course, UK is quite strict in this matter. Therefore, you should choose your course carefully at the beginning and stick to it until you finish the course.
World top UK Universities (Ranking 2021):
University of Oxford (Oxford) – Rank 5
University of Cambridge (Cambridge) – Rank 7
Imperial College London (London) – Rank 8
UCL (London) – Rank 10
The University of Edinburgh (Edinburgh) – Rank 20
Cost of Education and Living Expense
Australia
Cost of Study (see the funds calculator here)
School Fees

$7,800 to $30,000

Diplomas/ Certificates
From around

$4,000 to $22,000

per year
Bachelor's Degree
Fees range from about

$20,000 to $45,000

, with higher fees for subjects such as medicine and veterinary science
Postgraduate degree
Fees range from about

$22,000 to $50,000

, with higher fees for subjects such as medicine and veterinary science.
PhDs

$18,000 to $42,000

per year.
English Language courses
Study a general English course for $350 per week, or a Cambridge English exam course for $5,100 for 12 weeks.
Living Expense
As of October 2019, the 12-month living costs are:
For students or guardians – AUD$21,041
For partners coming with you – AUD$7,362
For a child coming with you – AUD$3,152
United Kingdom
Cost of Study
International student's tuition fees in the UK are lower than in Australia. These fees are varied, depending on the course and location you are studying. They range from around AUD 18,000 to AUD 62,000 or more for medical degree. Generally speaking, humanities and social sciences degrees would cost less than laboratory and clinical degrees, which are the most expensive.
Additionally, UK offers shorter courses than comparable courses in Australia. For example, you can finish an MBA degree within as short as 1 year, while it takes you 2 years to complete the course in Australia. This factor makes the tuition fees in UK is considerably lower then in Australia, not to mention the living expenses.
Living Expense
Living cost in London is more expensive than in other regions of the UK. While tuition fees might be lower than that of Australia, the living costs are a little higher. To be eligible for a student visa in the UK, you will need to prove that you have enough money to pay for your course and support yourself in the UK. How much money you need depends on your circumstances and what you're applying for.
You'll need either:
£1,334 (AUD 2,454) per month (for up to 9 months) for courses in London
£1,023 (AUD 1,884) per month (for up to 9 months) for courses outside London
Student Visa
Australia
You can apply for a student visa to study in Australia and include your spouse and dependent children with your application. With a student visa, you are allowed to work up to 40 hours per fortnight during your semesters, and unlimited hours during semester breaks. If you are a Master by Research or PhD students, you are allowed to work unlimited hours.
Your spouse can also work up to 40 hours per fortnight. If you are studying a Master's degree and above, your spouse might be allowed to work full-time in Australia.
In some states and territories, your dependent child may be waived the school fees.
United Kingdom
With a student visa, you can work up to 20 hours per week, and unlimited hours during semester breaks.
You can include your spouse and dependent children in your student visa application if you are one of the following:
While on a student visa, you cannot:
claim 

public funds

 (benefits) and pensions
work in certain jobs, for example as a professional sportsperson or sports coach
be self-employed
study at an academy or a local authority-funded school (also known as a maintained school)
After graduate visas
This is an important factor that international students should look into when deciding which country they should study at. A visa after graduation is a good opportunity for students to look for jobs and obtain work experience in that country. This is also a good time for students to earns more money, and travel to the areas that they were too busy to visit during their study period.
Australia
In Australia, international students have the opportunity to apply for a post graduate visa and stay in Australia up to 6 years. The period of this visa will depend on a number of factors, including what courses the students take, where the students live during their study.
There are two streams of post graduate visas:
United Kingdom
The new Graduate route will open for applications on 1 July 2021, allowing the UK to retain the brightest and the best international students to continue to contribute to society and the economy post-study.
International students must have completed an eligible course at a UK higher education provider, with a track record of compliance with the government's immigration requirements to apply to the Graduate route. Students on the Graduate route will be able to work or look for work after their studies for a maximum period of 2 years, or 3 years for Doctoral students.
Permanent Residence pathway
Australia
Australia has various visa schemes enabling international students to apply for a permanent residence visa after they study and earn experience. International students who study in Australia for at least 2 years will have more advantages to apply for a wide range of visas.
To find out more about PR pathway after you graduate, click here .
United Kingdom
Pathway to permanent residency in the UK is less open than that in Australia. You are not generally grated a direct permanent status in the UK. You will need to apply for a temporary skilled visa for at least 5 years before you can be eligible for permanent residency.
To apply for a skilled visa, except for Global Talent scheme, you must have a job offer and a sponsor in UK. This makes obtaining PR in the UK more challenging for international students.
To know more about the UK immigration, read Australia vs UK Immigration.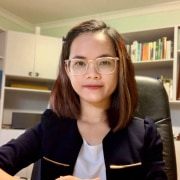 Phu Vu Minh
Bachelor of Law
Master of Human Resources Management – Curtin University, Perth
Phu is our Education Consultant (QEAC: O761) and Migration Agent Assistant at VisaEnvoy. She was practising as a lawyer in Vietnam prior to migrating to Australia. She is currently assisting potential overseas students to obtain educational placements. Phu deals with Universities, TAFE and vocational colleges, and English Language schools as well as a range of private schools for primary and secondary students.
With her knowledge in human resource management and experience working in multinational companies, Phu helps international students to develop study plans in Australia to acquire knowledge and skills that meet their needs and objectives. Phu is also fluent in Vietnamese.
To speak with Phu about your study options please book a time here.