MINT (Migration Innovation Northern Territory) program is an alternative pathway for overseas nationals to obtain Australian permanent resident through visa subclass 190 and subclass 491. This is suitable for those who meet the minimum requirements of visa subclass 190 or 491 and have sufficient funds to invest into a nominated investment funds in Norther Territory (NT).
Related: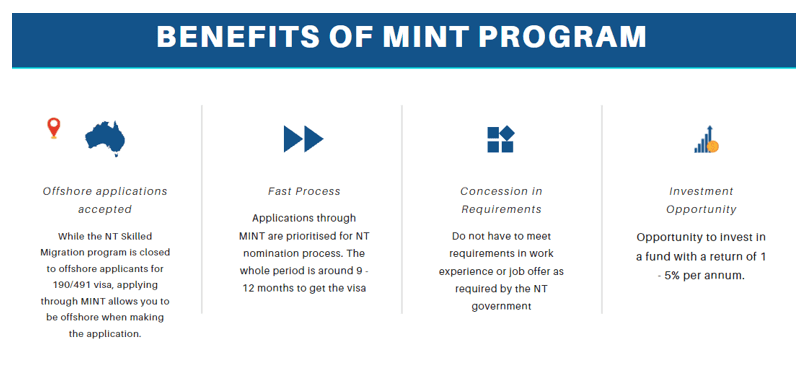 Purpose of MINT program
The Migrant Innovation Northern Territory (MINT) program is an initiative owned and managed by the Paspalis Group.
The MINT program seeks to:
Raise start-up capital for the Northern Territory innovation ecosystem providing support for growth companies at the Darwin Innovation Hub
Leverage visa programs managed by the Northern Territory Government
Maintain the integrity of the Northern Territory Government Nomination programs.
Support Nominations of those genuine applicants that will not only benefit the Northern Territory through the introduction of venture capital, but also through a population increase, filling skills shortages and undertaking business activities of benefit to the Northern Territory.
Ensure that local Northern Territorians are not disadvantaged through the Nomination of skilled migrants.
MINT Criteria
To be eligible for Northern Territory Government nomination MINT program participants must meet the following criteria:
demonstrate they will live in the Northern Territory (i.e. will reside in the Northern Territory) and meet the standard genuine intention criteria put in place for all applicants;
demonstrate they have a clear understanding of what the criteria are and what their obligations are;
have sufficient funds of their own for settlement;
provide fulsome and accurate applications;
must disclose all relevant information;
not have links to other regions of Australia, unless they also have

Strong Links to the Northern Territory;

if they do not have Strong Links to the Northern Territory they may only be eligible for a

provisional visa

.
meet Australian Government (DHA) threshold criteria; and
submit Nomination applications through the relevant application process within 2 months of signing an agreement with Paspalis Group.
meet Australian Government threshold criteria for the relevant visa;
be nominated for an occupation on the relevant Northern Territory skilled occupation list AND on the relevant Australian Government occupation list; and
must not be an International Student, unless they have Strong Links to the Northern Territory.
Related:

Strong Links to the Northern Territory means an Applicant meets one or more of the below:
has spent a significant amount of time in the Northern Territory (more than 12 months in the last 5 years);

has or has had Immediate Family in the Northern Territory; or

has worked for a minimum period of 6 months in the Northern Territory; or

has completed a minimum of 2 years full time study through a university higher education program or vocational education and training program, based in the Northern Territory.
Investment
In order to apply through MINT program, you must be able to invest AUD 515,000 to Paspalis Innovation Investment Fund (PIIF). The objective of the Fund is to provide a return to investors of between 1.0% and 5.0% per annum (after fees and costs but before tax) while supporting innovation and early-stage ventures which are conducted in, or associated with, the Northern Territory.
PIIF uses your investment to invest in Government Bonds and Early-stage and emerging companies.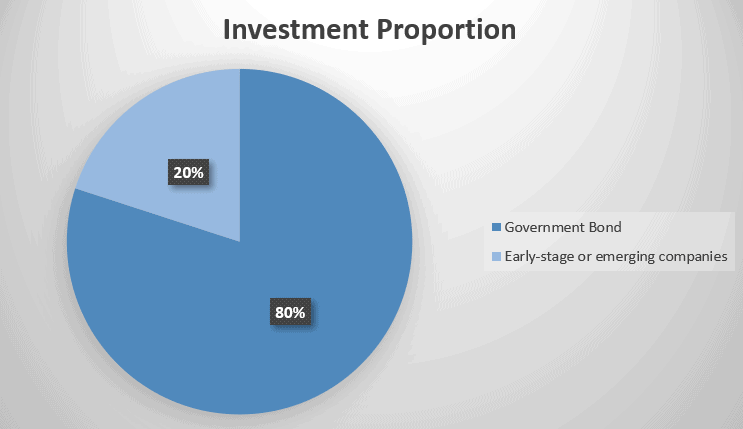 Key Features of PIIF
Minimum initial investment of $515,000.
Stable, low-risk return of up to 1.2% per annum from approximately

80%

of funds invested in Northern Territory Government Bonds.
Potential higher returns of up to 15% per annum from approximately

20%

of funds invested in early-stage and emerging companies such as:

Early-stage commercialisation investments that benefit the Northern Territory
Investment into research out of Northern Australia

The Fund may be required to hold back up to 10% of its investible funds on account of the risk of Unitholders wishing to withdraw their investment in the Fund due to being unsuccessful in their application for a visa.
Cost involved in MINT applications
| | | |
| --- | --- | --- |
| Fees | Paid to | Amount (AUD) – incl GST |
| Placement Fee | Paspalis | $33,000 |
| Nomination Fee | Northern Territory Government | $330 |
| Migration Agent Fee | Migration Agent | $5,000 – $10,000 |
| Investment | Paspalis | $515,000 |
| Visa Application Charge | Department of Home Affairs | $4,115 |
| Translation, Health Test, Police Clearance | Service provider | Varies |
How to apply
Related
Select a state below to see it's 190 visa requirements:

Australia
State and territory requirements