ACT Canberra Small Business Owner Pathway- 491 visa
Recently, the ACT Government just announced that they are adding one more stream into their Skilled Migration program, which is the Small Business Owner (SBO) pathway. Accordingly, as of July 2021, there are 3 states in Australia that have in place a migration stream for small business owner, namely Queensland, Tasmania, and ACT.
If you meet the requirements of the Small Business Owner stream in ACT, you might be invited to apply for ACT 491 or 190 nomination. The cut-off selection will depend on demand.
Did you know:

If you are applying for 190/491 ACT nomination under SBO stream, your nominated occupation does not need to be on the ACT Critical Skills List.
There have been a few updates to the Canberra SBO pathway:
The Commitment to Canberra statement is now not required.
Self employed applicants must earn a minimum $520 per week ($1000 full time)
The criteria for employees working in Canberra for an interstate employer has been simplified –  they can work in a serviced office but not online or at home.
Spouse employment clarified: They do not meet the three months employment criterion, but they have 'A tertiary qualification (3 year trade, or a Bachelors, Masters or PhD) from an Australian institution in any occupation';
SBO Applicants do not need FT work rights to apply for 190 nomination.  The SBO employment eligibility is based on minimum income, not working hours.  Student visa holders are eligible for both 491 / 190 nomination if they earn a minimum $13,000 in six months.   A 190 invitation will depend on their Matrix rank
The number of SBO supporting documents has been reduced – a stat dec confirming the ACT business activity / employees is mandatory
Eligibility
To be eligible for the Small Business Owner Stream in ACT, applicants must be able to claim points in the Small Business Owner category in the ACT matrix. However, like other streams in Skilled Migration program, applicant in SBO must meet the following requirements: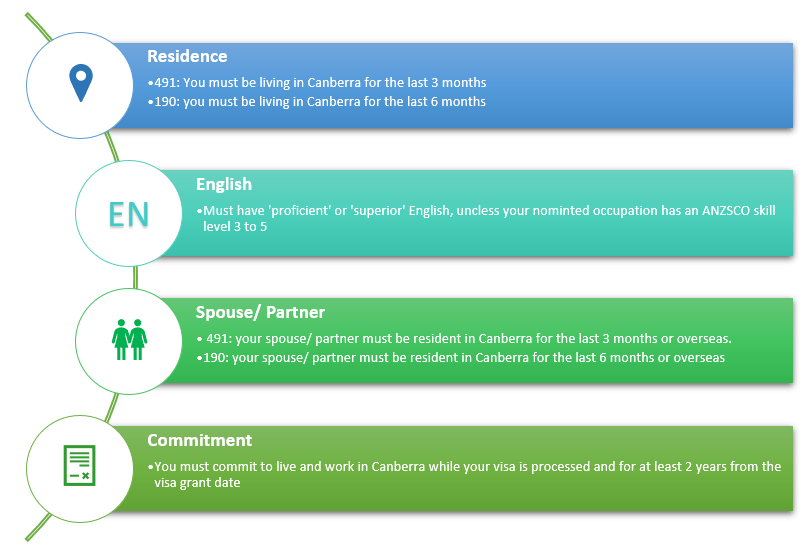 Important

If you, your spouse/ partner or children are living or working in another Australia state or territory, you are not eligible for ACT nomination.
Your business in Canberra
Your business in Canberra must meet the following minimum criteria to apply under SBO stream:
Ownership:

You must own at least

51%

of a registered business located and actively operating in the ACT.

Turnover:

your business must have a minimum turnover of AUD

$200,000

per annum (or pro-rata).

Length of operation:

your business must have actively traded in Canberra for at least

6 months

from the date established or purchased.

Your business must be profitable.

The profit can be as small as

$1

.

Your salary:

Your business must be paying you the following salary immediately before date of Matrix submission:

190 nomination: at least

$26,000

for six months.
491 nomination: at least

$13,000

for three months.

Employee:

You must employ at least one Australian citizen, permanent resident or New Zealand citizen for at least 13 weeks (minimum 20 hrs pw).

You may employ one or more employees. The employment does not have to be continuous.
The employment must be in accordance with Australian legislation.
You MUST provide a statutory declaration confirming the employment and citizenship details for each employee.
Did you know – the following business types are not eligible for SBO stream:

Sub-tenancy
Ride-share, taxi
Courier services
A business that has been used to qualify for ACT nomination.
Application Process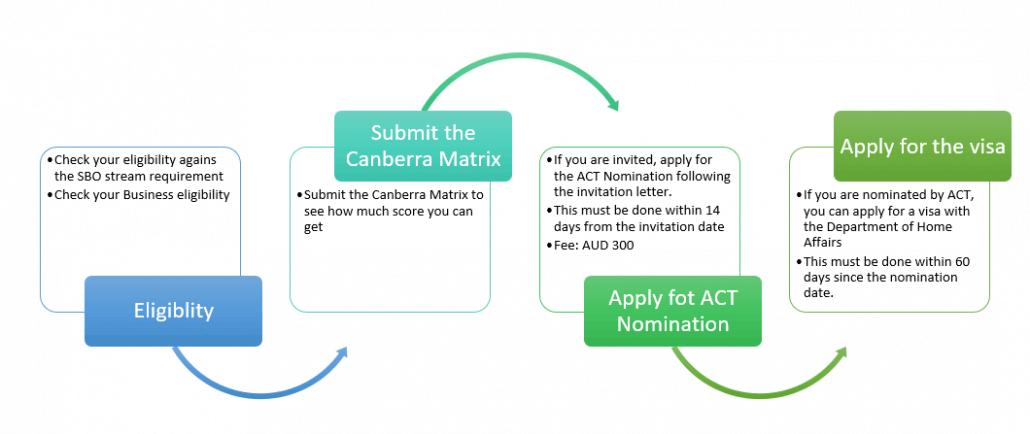 Important information

Once your matrix is submitted, it cannot be updated or withdrawn. If your circumstances change, you will need to submit a new Matrix.
The ACT government only offers 1 nomination place per person, unless you have a genuine reason for them to do otherwise. Therefore, make sure that your Matrix and nomination application are correct, and that you don't miss any deadline for the application.