Medical Practice and Hospital Sponsors: Visa Options for Overseas Trained Medical Professionals
Medical Practices and hospitals are involved in the immigration process as they sponsor or are seeking to sponsor overseas trained medical professionals to address labour shortages they may be experiencing.
The Employer Sponsored Visa Types available to International Medical Graduates (IMGs) include subclass 482 TSS Visa, Subclass 186 Visa and Subclass 494 Visa.
Subclass 482 – Temporary Skills Shortage
The Subclass 482 Visa is a visa pathway for businesses who wish to sponsor a skilled worker where they cannot source an Australian citizen or permanent resident to perform the required work duties. Prior to the visa applicant making an application for the Subclass 482 Visa they are required to be nominated. The Department of Home Affairs requires that the skilled worker/visa applicant works for an Employer Sponsor, either an Australian Business Sponsor or an Overseas Business Sponsor.
Therefore, Employers must lodge a nomination application for the visa applicant prior to prospective employees initiating their visa application. An employer must be an approved sponsor to do this, and the employer/sponsor must provide the visa application with the Transaction Reference Number for the Department to cross-reference the two applications.
Standard Business Sponsorship
To be eligible to become a Standard Business Sponsor, businesses must meet the following criteria: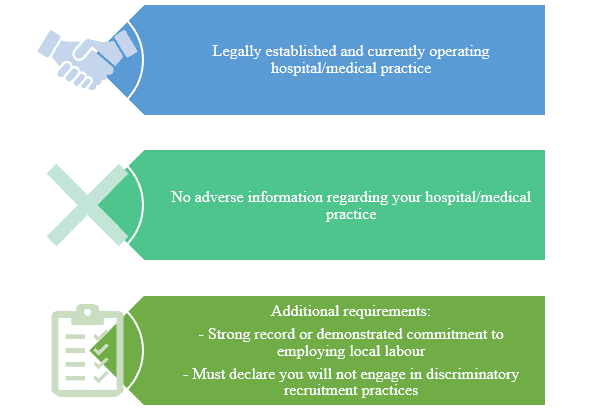 Cost and Length of Sponsorship Application
There are costs associated with becoming an approved Standard Business Sponsor. There is an application fee of $420.00 to the hospital/medical practice.
Once approved, the Standard Business Sponsor status is valid for 5 years from the date of approval.
As a Standard Business Sponsor, there are obligations that apply to the operation of your hospital/medical practice. To maintain or renew your status as a Standard Business Sponsor, you must ensure that your hospital/medical practice continues to uphold the sponsorship obligations. It should also be noted that some of these obligations extend beyond the term of sponsorship i.e. more than 5 years.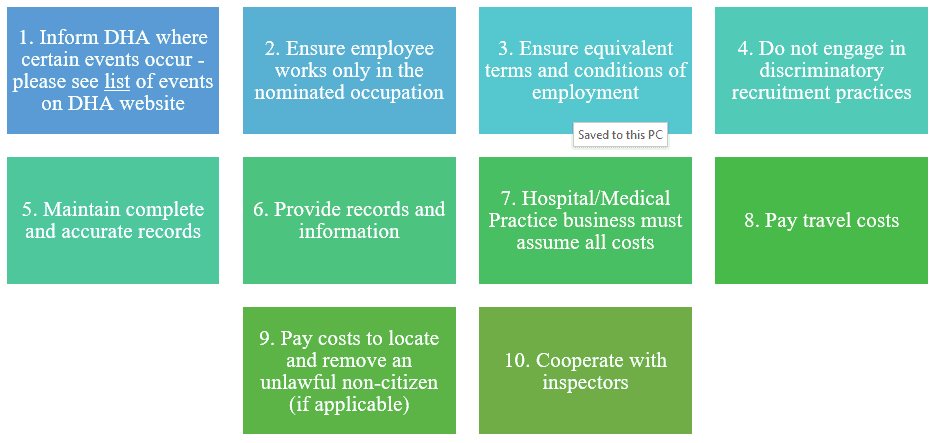 The Department of Home Affairs monitors the Standard Business Sponsor and their compliance with the sponsorship obligations throughout the approval period and up to five years after their sponsorship status ends. The Department of Home Affairs has the power to take enforcement action against businesses that fails to meet their sponsorship obligations.
Employer Sponsored Visas for Medical Professionals Seeking Permanent Residence in Australia
Medical Professionals who are seeking to remain in Australia through a permanent residency pathway can do so through an employer-sponsored pathway.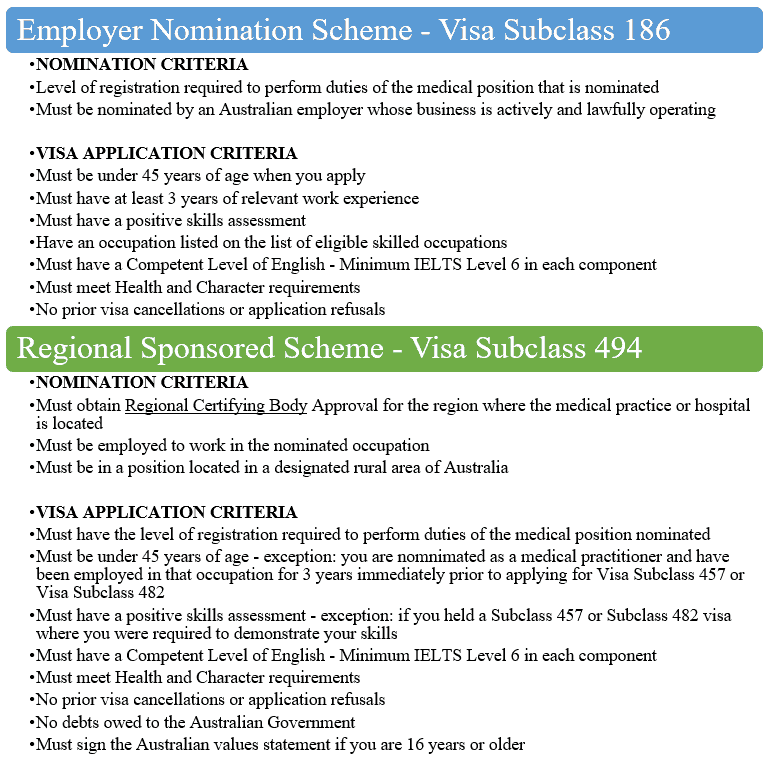 Age Requirement Exemptions
All general skilled migration categories require that visa applicants are under 45 years of age at the time of invitation to apply. However, there are two exemptions that may be relevant to health practitioners: Regional Medical Practitioner Exemption and High Income Exemption.
Regional Medical Practitioner Exemption
Subclass 186 Employer Nomination Scheme Visa allows for an exemption to the age limit requirement for Regional Medical Practitioner Applicants if they meet the following criteria:
Nominated in a position in a regional area of Australia
Medical Practitioner in the ANZSCO Minor Group 253
Must have been employed as a medical practitioner for the three years prior to lodging the application
Must have spent at least two years during the three years above employed as a Medical Practitioner in a regional area of Australia

The two years are not required to be consecutive; this can be made up of several periods

Must have held a subclass 457 or subclass 482 visa for most of the time throughout the three-year period
High Income Exemption
Visa holders of Subclass 482 who earn an income that is above the High Income Threshold are exempt from the age requirement. The current high-income threshold for 2022 is $162,000. The earnings that contribute to the high-income threshold are wages, fringe benefits and salary sacrifice amounts. This does not include superannuation. The following criteria must be met for the visa applicant to meet the high income exemption:
Throughout the three years prior to making the visa application the person was employed by the employer who made the nomination AND in the nominated occupation
In each of those three years, the persons' earnings were equal to or greater than the high income threshold
Must have held a subclass 457 or subclass 482 visa for most of the time throughout the three-year period

Jamie Lim
Jamie is an Australian Regulated Migration Advisor (RMA 1799460).  Jamie has extensive immigration services experience across multiple visa subclasses and specialises in employer sponsored visas. He has a wide range of experience in corporate migration, including employer-sponsored visas and immigration compliance, and has managed small to large multinational corporate clients. Jamie also has specific experience with medical professionals, skills assessments, state sponsorships as well as partner visas. Book a time with Jamie here.
Jamie holds a Bachelor of Laws (Hons) from Monash University. Jamie speaks Mandarin Chinese as a second language.
His specialities include but not limited to: