Russian Migration Agent in Sydney
Many Russian visa applicants suffer from language and culture barriers when applying for an Australian visa.
These barriers not only make them feel confused and lost but also put them in complicated situations, such as being labeled as a suspicious applicant when they are indeed telling the truth.
Nadia from VisaEnvoy can provide personalised immigration services and solutions in Sydney and Melbourne to our Russian speaking clients.
Areas of Practice: Regional Skilled visas, Business short stay, Business Skills, Citizenship, Distinguished Talent visa, Employer Nomination Scheme 186 visa, General Skilled Migration, Labour Agreement, Migration Review Tribunal, Parent, Partner, Prospective Marriage, Regional Skilled Migration- 187 visa, Resident Return, Sponsored Business Visitor, Sponsored Family Visitor, Spouse, Student, Student Guardian, Tourist / Visitor
Languages Spoken: Russian, Ukrainian, English
Надежда – грамотный специалист с многолетним опытом работы с иммиграционными случаями разной степени сложности.
Перед началом карьеры иммиграционного агента, Надежда успешно прошла собственный
иммиграционный путь, самостоятельно решая все визовые вопросы. Вдохновившись личными успехом,
Надежда решила получить необходимое образование и аккредитацию, чтобы помочь таким же
иммигрантам, как и она сама, в этом нелегком и деликатном процессе.
Надежда оценивает каждое дело и старается подобрать надежный, быстрый и эффективный
иммиграционный путь для клиентов. Оне не признает работу по шаблону и часто видит
возможности, упускаемые другими агентами. Показатель успешности проведения кейсов у Надежды
составляет 99%.
Мы вам поможем с зачислением в учебные заведения Австралии и оформлением студенческих виз; оформлением временных и постоянных визах, спонсируемых работодателем; подготовкой детального иммиграционного плана; оформлением виз жениха/невесты/мужа/жены.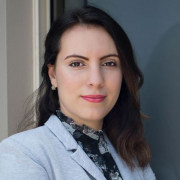 Nadia Zdielnik
MBA (KNTEU) Grad Dip in Migration Law & Practice (Griffith University)
MAcc Charles Sturt University
Australian Registered Migration Agent 1569520 & New Zealand Licensed Immigration Adviser 201800814
Having successfully completed her own immigration journey, Nadia has a first-hand experience going through this tortuous and highly sensitive process.
Her personal success and ambitious character have lead her to embracing the Australian convoluted system of the immigration law and starting her own career with a goal to help more migrants like her to fulfill their Australian dream.
Nadia is a quick-thinker with unconventional problem-solving skills. She understands all nuances of the immigration process and is able to cater to her clients unique needs, ensuring stress-free experience and positive outcome for all.
Nadia specialises in skilled temporary, permanent visas and employer sponsored visas applications. If you are an employer who needs an expert to manage your global mobility needs, Nadia has the depth and breadth of expertise to provide your business with immigration support to ensure a global mobility program that operates smoothly and efficiently. Nadia is also fluent in Russian and Ukrainian.