Regional Certifying Bodies Comparison – 494 Visa- Pathway to Permanent Residency
When an employer nominates a visa holder or overseas applicant for the Subclass 494 Skilled Employer Sponsored Regional (Provisional) visa, the nominated position must be assessed by a regional certifying body (RCB). Regional certifying body assessments give the Department of Home Affairs information about local labour market conditions and other relevant regional matters. Your nominated occupation must be approved by RCB before you can lodge a valid nomination application for visa subclass 494.
Depending on where the nominated position is in, you must apply to the relevant RCB. Each state and regional area has different RCB criteria.
Here is an overview of RCBs across regional areas in Australia and their requirements.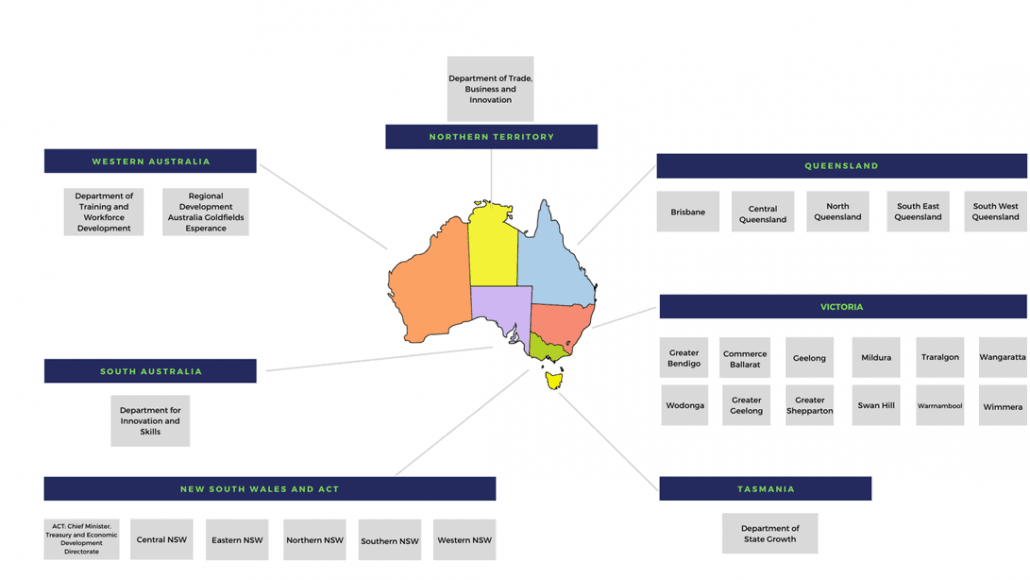 Detailed requirements
 

Areas Covered

Duration of company operation requirements

Processing time

Fee (GST included)

VICTORIA

Greater Bendigo

(Loddon Mallee Regional Certifying Body)

–        City of Greater Bendigo

–        Macedon Ranges Shire

–        Gannawarra Shire

–        Loddon shire

–        Central Goldfields Shire

–        Campaspe Shire

Nil

28 days

AUD $550

Commerce Ballarat

–        City of Ballarat

–        Golden Plains Shire

–        Hepburn Shire

–        Moorabool Shire

–        Pyrenees Shire

Nil

Not Published

Member: AUD $495

Non-Member: AUD $605

Geelong

–        Geelong

–        Gippsland

–        Traralgon

Nil

28 days for 494

90 days for 187

AUD $550

Wangaratta

–        Rural City of Wangaratta

–        City of Wodonga

–        Benalla Rural City

–        Alpine Shire

–        Towong Shire

–        Mansfield Shire

–        Indigo Shire

Nil

28 days

AUD $550

Greater Shepparton

–        City of Greater Shepparton

–        Strathbogie Shire

–        Murrindindi Shire

–        Moira Shire

–        Mitchell Shire

Nil

28 days

AUD $550

Swan Hill & Mildura

Swan Hill Rural City Council is the Regional Certifying Body (RCB) for the North West region (Swan Hill and Mildura)

Nil

28 days

AUD $595

Warnarnbool

(Great South Coast)

–       Warrambool

–       Moye

–       Corangamite

–       Glenelg

–       Southern Grampians

–       Colac-Otway shires

Nil

Not published

AUD $440

Wimmera

Wimmera and Southern Mallee region

At least 6 months

Not published

AUD $550

QUEENSLAND

Chamber of Commerce and Industry Queensland

–   Brisbane

–   Rockhampton & Central QLD

–   Cairns

–   Far North QLD

–   Mackay

–   Townsville & North QLD

–   Gold Coast

–   Sunshine Coast

–   Toowoomba

–   South West Queensland

–   South East Queensland

Nil

10 days

CCIQ Members: $436.54

CCIQ Non-Members: $669.9

Remote Area Planning & Development Board (RAPAD)

Central Western Queensland

Nil

Not published

AUD 330

Gladstone Area Promotion and Development Limited

Gladstone

Nil

5 days

AUD 550

Mount Isa Chamber of Commerce

North West region

Nil

Cairns Chamber of Commerce

Cairns

Nil

10 days

Members of the Cairns Chamber of Commerce: $414.70

Non-Members of the Cairns Chamber of Commerce: $638.00 (incl GST)

Maranoa Regional Council

Maranoa

Nil

Not published

AUD 520

AUSTRALIAN CAPITAL TERRITORY

Chief Minister, Treasury and Economic Development Directorate

All Canberra

Nil

21 days

AUD 330

NEW SOUTH WALES

Regional Development Australia, Central West Inc

–       Central West region

–       Blue Mountains LGA

Nil

28 days

AUD 660

Regional Development Australia, Orana Inc

Orana region

Nil

28 days

AUD 800

Regional Development Australia, Central Coast Inc.

Central Coast & Hawkesbury

Nil

28 days

AUD 800

Regional Development Australia, Hunter Inc.

Hunter Region

Nil

28 days

AUD 675

Regional Development Australia, Mid North Coast Inc.

Mid North Coast

Nil

28 days

AUD 770

Regional Development Australia, Northern Inland Inc.

Armidale Regional, Tenterfield, Glen Innes, Uralla, Walcha, Tamworth, Liverpool Plains, Gunnedah, Narrabri, Moree, Gwydir and Inverell

In most case, 2 years of Financial Report is required.

If a business is less than six months old, an additional strong argument for the nomination, supporting by documents and a business plan and explanation about what led to the need for the position

28 days

AUD 770

Regional Development Australia, Northern Rivers Inc.

Northern Rivers region

Nil

Not published

AUD 770

Regional Development Australia, Far South Coast

Far South Coast

In most case, 2 years of Financial Report is required.

If a business is less than six months old, an additional strong argument for the nomination, supporting by documents and a business plan and explanation about what led to the need for the position

28 days

AUD 770

Regional Development Australia, Illawarra Inc.

Illawarra region

Nil

28 days

AUD 770

Regional Development Australia, Murray Inc.

Murray Region

Nil

28 days

AUD 770

Regional Development Australia, Riverina Inc.

Riverina region

Nil

28 days

AUD 770

Regional Development Australia, Southern Inland Inc.

Southern Inland

Nil

28 days

AUD 770

Regional Development Australia, Far West Inc.

Far West

Nil

14 days

AUD 770

NORTHERN TERRITORY

Department of

Industry, Tourism and Trade

All Northern Territory

Nil

Not published

Free

SOUTH AUSTRALIA

Department for Innovation and Skills

All South Australia

Nil

Not published

Free

TASMANIA

Department of State Growth

All Tasmania

12 months

28 days

Free

WESTERN AUSTRALIA

Department of Training and Workforce Development

Western Australia (excluding the Goldfields–Esperance region).

Nil

Not published

AUD 200

Regional Development Australia Goldfields Esperance

Goldfields–Esperance region

Nil

28 days

AUD 440