Most Common Reasons for Australian Student Visa Refusal
The Department of Home Affairs (DOHA) may decide to refuse the grant of student visa to international students if you do not meet certain requirements of the study course, or you cannot provide a complete and correct application with all required supporting documents at time of lodgement.
This article will provide you with key insights on student visa grant rates by sector, citizenship country and client location and some of the most common reasons for student visa refusal Australia.
Related:
Key insights
In the last quarter of 2021, the grant rate for student visas was 90.9%, which means every 1 out of 10 international students had their student visa refused and could not go to Australia to study.  The grant rate for applicants outside Australia in the Vocational Education and Training Sector was even significantly lower, only less than 70%.
Among top 15 citizenship countries, visa grants in the first half of the 2021 – 2022 program year increased for nationals from Vietnam (14.3 per cent) and Indonesia (7.0 per cent). Of the total student visas granted in the first half of the 2021-22 program year, 23.2 per cent were granted to nationals of China followed by 18.6 per cent to nationals of India.  [i]
Number of student visa applications granted by month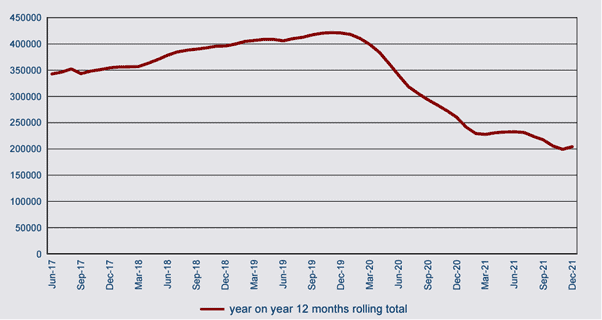 Grant rate of student visa applications decided by sector and client location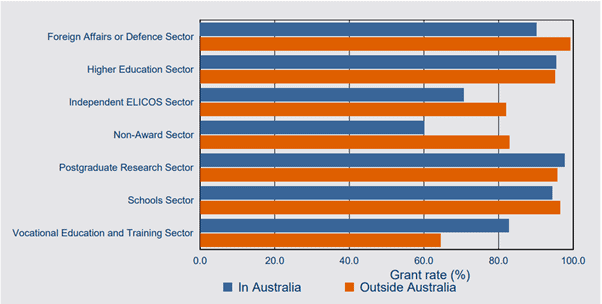 Grant rate of student visa applications decided by citizenship country and client location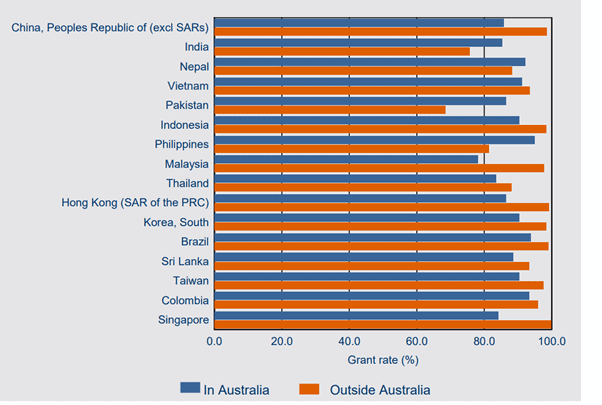 [i] Department of Home Affairs, Student visa and Temporary Graduate visa Program report https://www.homeaffairs.gov.au/research-and-stats/files/student-temporary-grad-program-report-dec-2021.pdf
Main reasons for student visa refusal
Genuine intention to stay temporarily in Australia (GTE)
DOHA must be satisfied that you have a genuine intention to stay temporarily in Australia to study and intention to comply with visa conditions, by considering:
your circumstances in your home country:

reasons why you do not undertake the study in your home country, any significant incentive for you to return to your home country, considering your personal ties and economic circumstances relative to the home country and to Australia. DOHA will also examine other factors such as military service commitments or political and civil unrest in your home country when deciding whether to grant your student visa.

your potential circumstances in Australia:

The Department will examine the incentives that you may have to remain in Australia, including family and community ties, your knowledge of the course you intend to study and your knowledge of living in Australia.

the value of the course to your future:

you need to show that you undertake a course that is consistent with your current level of education and your preferred course of study is in line with your previous studies. DOHA will also look at your future employment or career prospects in your home country, and the remuneration and other benefits you can expect to receive in your home country as a result of acquiring the qualification in Australia.

your immigration history:

DOHA will look at both your visa and travel history, including any previous visa refusal/s or cancellations. The Department will consider If you maintain ongoing residence in Australia and have undertaken a series of short, inexpensive courses, or have been in Australia for some time without successfully completing a qualification.

any other relevant matters:

This includes information that may be either beneficial or unfavourable to you when DOHA assesses your intention to temporarily stay in Australia.
Financial capability
You need to have enough money that is genuinely available to you to pay for your course fees, travel and living costs for you and your accompanying family members while you are in Australia.
Please refer to our unique Student Visa Fund Calculator to see if you have enough funds for an Australian Student visa.
Course enrolment
The current Confirmation of Enrolment (CoE) for each of your study course must be provided in your visa application to avoid student visa refusal.  Other acceptable evidence of enrolment can be AASES form for secondary exchange students, a letter of support from DFAT/Defence containing details of the intended course of study or a letter for postgraduate thesis marking issued by the relevant Australian education provider.
English Language Requirement
You must provide evidence that you meet English language requirement. Failure to demonstrate that you meet this requirement by providing relevant supporting documentation, your student visa application will be refused.
Evidence that you meet English language requirement can be you have completed a specified English language test and achieve a prescribed minimum test score within the last 2 years (unless you are exempt). The following English language tests are accepted for this purpose:
IELTS;

Occupational English Test (OET);

Test of English as a Foreign Language Internet-Based Test (TOEFL iBT);

PTE Academic; or

Cambridge English: Advanced (CAE) test (Certificate in Advanced English)

.​
There is exemption applied for citizen of, and who holds a valid passport issued by:
the United Kingdom

the United States of America

Canada

New Zealand or

the Republic of Ireland
or if you have completed at least five years' study in one of these countries, or in Australia or South Africa.
Health Insurance
The Department wants to ensure that international students can meet the cost of the medical and hospital care they may need in Australia. Therefore, in your visa application, you must provide evidence that you have adequate arrangements for health insurance during your intended stay in Australia. Such evidence can be payment of the Overseas Student Health Cover (OSHC), unless an exemption applies.
Fraudulent or bogus document
A bogus document is a document that the Department reasonably suspects is one that:
purports to have been, but was not, issued in respect of the person, or
is counterfeit or has been altered by a person who does not have authority to do so, or
was obtained because of a false or misleading statement, whether or not made knowingly
To avoid visa refusal, you must prove your identity and provide true information with your application. DOHA may refuse your visa application for failing to satisfy Public Interest Criterion (PIC) 4020 if you, or any of the members of your family unit:
do not provide sufficient evidence to prove your identity
provide bogus documents or information that is false and misleading in relation to your current visa application or
provided bogus documents or information that is false and misleading in relation to a visa that you held in the 12 months before making your current application.
Health requirements
You are required to meet certain health requirements before you can be granted with a student visa.
Health requirements are in place for visa applicants to ensure that:
the Australian community is protected from public health and safety risks, especially active tuberculosis
the government can control how much is spent on services like social security benefits, allowances and pensions
Australian citizens and permanent residents can access health and community services that are in short supply
If your student visa is refused or cancelled it is very important to act in time. We at VisaEnvoy can assess your options to appeal the decision if you are eligible. Book a consultation today!
If you would like a comprehensive consultation which includes assessing you for other temporary and permanent visa options (Skilled visas, Employer Sponsored, Partner, etc.) as well, we recommend our standard 45 minute to 1 hour consultation which can be scheduled here:
https://visaenvoy.as.me/video (45 min)
Related: