Australia Travel Exemptions for Inbound and Outbound travels: is it possible to apply for one?
As per Prime Minister's statement, parents of Australian citizens and permanent residents are to be classified as 'immediate family' for travel to Australia from 1 November 2021 and therefore will be able to travel to Australia without an exemption if they have a valid visa to enter Australia and the state or territory allows it. 
Due to Covid19 situation since March 2020, Australia remains its consistent policy on international travels, including placing hard restrictions on people who are not Australian Citizens or PRs to come to Australia, and people who are Australian Citizens or PRs to depart the country. Although this measurement has proven to be an effective way that helps Australia to contain the pandemic, it also causes many challenges to family's members and professionals in their movement for reunion and work commitments.
Related articles:
Australian Government has been receiving a great number of travel exemption applications over the last 12 months and working hard to decide which cases can be given the exemptions. Let us have a closer look at the statistics on inbound and outbound travel exemptions in the last several months.
Inbound travel exemptions between September 2020 and January 2021 by month.
There are two categories under which the inbound travel exemption can be approved: Discretionary exemptions by the ABF Commissioner and Immediate Family members of an Australian citizen or permanent resident
| | | |
| --- | --- | --- |
| | Discretionary exemptions | Immediate family of Australian citizens/ PRs |
| Sep-20 | 3935 | 1877 |
| Oct-20 | 4571 | 1717 |
| Nov-20 | 3511 | 1610 |
| Dec-20 | 3871 | 1187 |
| Jan-20 | 2507 | 1145 |
Looking at the table above, it is readily apparent that the number of exemption grants under Discretionary exemptions is around threefold of the figure for Immediate Family. This might be because Australian government is prioritising people with critical skills to assist the country in containing the pandemic and economic recovery.
Outbound travel exemptions approved between March 2020 and December 2020 by number of grants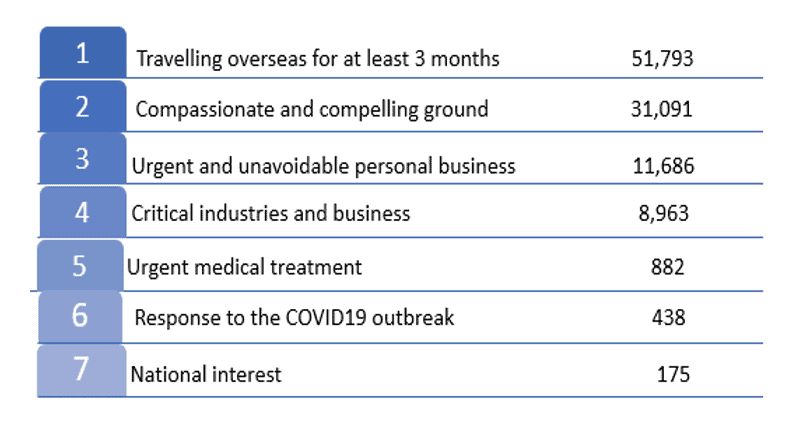 The table shows that people who have intention to leave Australia for more than three months get the highest number of exemptions, followed by the people with compassionate and compelling reason, and urgent and unavoidable personal business reason to depart Australia. From these statistics, we can see that if applicants:
Have plan to leave Australia for a long period of time; or
Travel for business, including FIFO workers and those fulfilling an existing work contract; or
Need to travel for the death or serious illness of a close family member and parents, or travel for surrogacy/ adoption/ pick up a minor child oversea.
will be more likely to get the exemptions approved compared to others.
For COVID-19 visa related travel questions / 408 visa eligibility you can book a time here:
https://visaenvoy.as.me/covid19 (25 min – $50)
If you would like a comprehensive consultation which includes assessing you for other temporary and permanent visa options (Skilled visas, Employer Sponsored, Partner, etc.) as well, we recommend our standard 45 minute to 1 hour consultation which can be scheduled here:
https://visaenvoy.as.me/video (45 min- $150)
Related: