New Zealand – New 2021 Resident Visa
The New Zealand Government have announced today a new residence visa category known as the 2021 Resident Visa. Applications will open in two stages for eligible applicants: 1 December 2021 and 1 March 2022.
The 2021 Resident Visa category will allow specific visa holders who would not otherwise be eligible under the Skilled Migrant Category Resident Visa stream to apply for residency in New Zealand if the relevant criteria are met.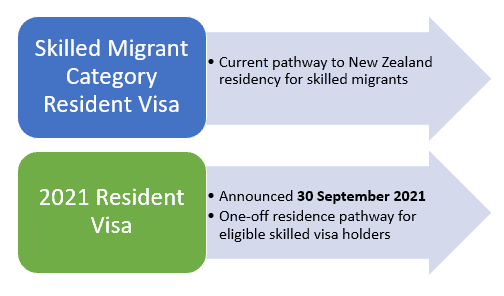 Eligibility Criteria for 2021 Resident Visa
Note: Applicants must have met the eligibility criteria on 29 September 2021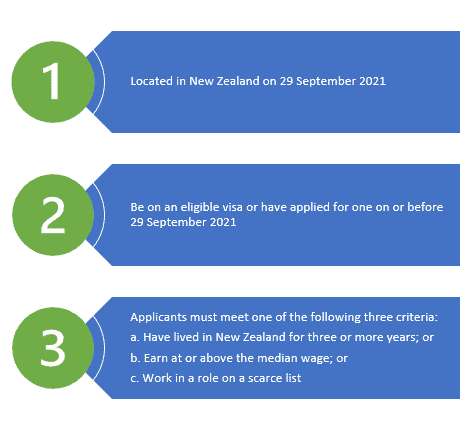 1. Must have been in New Zealand on 29 September 2021
The 2021 Resident Visa stream is only available to applicants who are currently in New Zealand.
2. Eligible Visas
The table below identifies the eligible and ineligible visa types for the 2021 Resident Visa:
Eligible Visas

Ineligible Visas

Post Study Work Visa

Short Term Visa Holders

·         Visitors

·         Students

·         Working Holiday makers

·         Seasonal Workers

Talent (Accredited Employer) Work Visa

Essential Skills Work Visa

Religious Worker Work Visa

Talent (Arts, Culture, Sports) Work Visa

Long Term Skill Shortage List Work Visa

Silver Fern Practical Experience Work Visa

Trafficking Victim Work Visa

Migrant Exploitation Protection Work Visa

Skilled Migrant Category Job Search Work Visa

Victims of Family Violence Work

Visa South Island Contribution Work Visa

Work Visa granted under Section 61 (provided the applicant held another eligible visa type within 6 months before being granted this visa)

Critical Purpose Visitor Visas (CPVV)

·         Critical Health Workers for longer term roles (6 months or longer); and

·         Other Critical Workers for long term roles (more than 6 months)

Partners and dependent children including those outside New Zealand can be included in applications
Critical Purpose Visitor Visas
Applicants who hold CPV visas are deemed eligible so long as they arrive in New Zealand and apply for the 2021 Resident Visa stream prior to 31 July 2022. Please note if you hold a CPV visa and are a short term or seasonal role such as fishing crew, agricultural, horticultural mobile plant operator, or shearer you are not eligible.
3. Applicants must meet one of the following three criteria:
3a. Have lived in New Zealand for three or more years
Applicants must have lived in New Zealand for the past three or more years and:
Arrived in New Zealand on or before 29 September 2018; and
Have spent 821 days at a minimum in New Zealand
The time spent in New Zealand does not need to be consecutive in order to meet this eligibility criteria.
3b. Applicants earning above the median wage
Applicants must be paid the median wage of $27 NZD per hour or above
3c. Work in a role on a scarce list
Applicants must work in a job that is on a scarce list. The lists are linked below:
Jobs requiring occupational registration in the health or education sector

Personal carer and other critical health workers

Specified primary sector jobs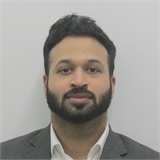 Mohamed Anas Sirajur Raheem
Barrister and Solicitor, New Zealand
Australian Lawyer
Mohamed is a New Zealand Immigration Lawyer with VisaEnvoy and an enrolled Barrister and Solicitor of the High Court of New Zealand. He is also admitted as a lawyer in the Supreme Court of Queensland.
He is a former New Zealand Immigration Officer (Visa Services) and Border Officer at Auckland International Airport. He has several years of experience working in various Government Departments in New Zealand and has also worked as a Licensed Immigration Adviser at a prominent New Zealand Immigration firm.
His areas of expertise and interest are in the fields of General Skilled Migration, Temporary Work (Long and Short Stay), Business visas, Partner, Parent and Child Visa streams.
Mohamed was inspired to pursue a career in immigration by his own migration experiences. Over the years he has assisted individuals, families, large corporations, Professional sportspeople, and Entertainers (singers, speakers, and actors) to come to New Zealand. Book appointment