Thank you for booking an appointment with VisaEnvoy. There are 2 ways to start your Video Meeting (using Google Meet). In your initial booking confirmation, there is a link that will take you to the meeting.
Your

spouse or partner

(who are not at the same location) can join the consultation if you

share the booking link

with them.
If you have selected phone or other mediums to connect with us and would like to change it to Google Meet please let us know by emailing [email protected] (you can use the same link in your confirmation email- screenshot below).
Please join the meeting 5 minutes before the start of your consultation so you can test the connection. If you are new to online meetings and would like to test your audio and video please call us on +61 (03) 9521 7577, so we can do a one-on-one test with you.
On your PC
To join a Google Meet you do not need to have a Gmail account or to be signed into any account. We recommend opening your meeting link on Google Chrome and on your PC.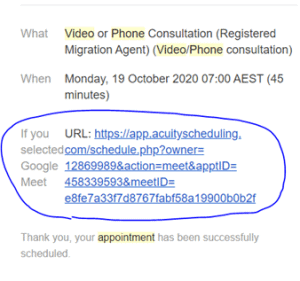 On your smartphone
If you are joining via your smartphone, please install the Google Meet app and test your booking link on your phone.
Add to Calendar
We recommend adding your appointment to your calendar, so you do not have to look for your booking confirmation email at the time of your appointment and you will see your booking in your local time. You will see the below button to add your booking to calendar in your initial booking confirmation: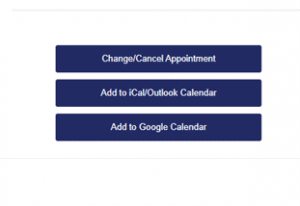 If you add your booking to your Google calendar you can click on any of these links to join the call: