Explainer: Djokovic Deported
With the Australian Open commencing last week, we look at the visa and immigration issues at play regarding Novak Djokovic, his medical exemption, and the Australian borders. The immigration decisions over the past 12 days have appeared complex and confusing. The Australian Government is working to protect the immigration system that has been adopted to suit the COVID-19 pandemic.
Timeline Overview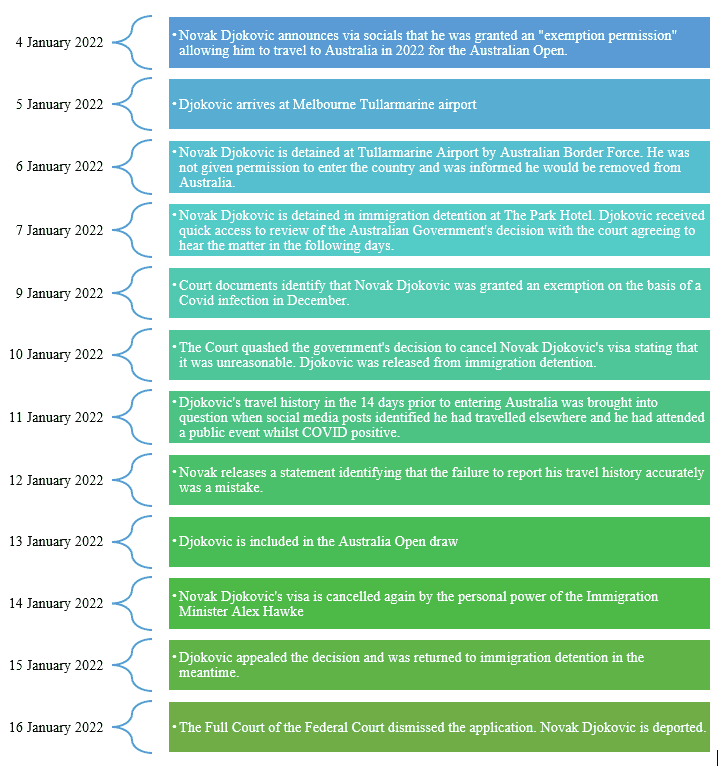 How did Novak Djokovic arrive in Australia?
Djokovic applied and was granted a Subclass 408 Visa that permits individuals to travel to Australia temporarily for specific circumstances including elite sporting events. Prior to the 5 December 2021, anyone travelling to Australia was required to obtain a valid visa AND a travel exemption. One of the travel exemption grounds were in the national interest or sponsored by a State or Territory. The Victorian Government granted Novak Djokovic a border travel permit allowing him to travel to Australia. On 5 December 2021, immigration changes took place and travel exemptions were no longer required however, individuals travelling to Australia were required to be double vaccinated against COVID-19 unless they had a valid medical exemption.
To travel to Australia and remain free from quarantine requirements, individuals must hold an eligible visa and they must have received two doses of a vaccine that is approved or recognized by the Therapeutic Goods Association (TGA).

Throughout the immigration debacle, it became known that Novak Djokovic is unvaccinated. He previously refused to disclose his vaccination status. He applied for a medical exemption to enter Australia on the basis that he had become infected with COVID-19 in December 2021. Upon completing his international travel declaration as required by section 44 of the Biosecurity Act 2015, Djokovic noted that he had a valid exemption from the COVID-19 vaccine requirement as he was medically contraindicated. According to the Australian Government, this is not a valid basis for a medical exemption to be granted for entry into Australia. Djokovic believed that as his medical exemption was granted by Tennis Australia and an Independent Expert Medical Review Panel, this was sufficient to meet the Australian Technical Advisory Group on Immunization (ATAGI) exemption requirements.
Why was Novak Djokovic's visa cancelled not once, but twice?
Novak's visa was first cancelled by Australian Border Force upon his arrival at Tullamarine Airport in Melbourne on 6 January 2022. The delegate of Australian Border Force conducted several interviews with Novak Djokovic before he concluded that the professional tennis player would be a threat to the "health, safety or good order of the Australia community" under section 116 of the Migration Act 1958.

Novak's visa was cancelled by Australian Border Force under section 116(e)(i) of the Migration Act 1958. Djokovic sought review of this decision in the Federal Circuit and Family Court of Australia. The judge quashed the decision to cancel Novak's visa and he was allowed to remain in Australia.
Novak Djokovic's visa was then cancelled a second time by the personal power of the Minister for Immigration Alex Hawke on 14 January 2022. The Immigration Minister invoked his power under section 133C of the Migration Act 1958 to personally cancel Novak Djokovic's visa.

Immigration Minister Alex Hawke cancelled Novak Djokovic's visa under section 16(1)(e) indicating it is in the public interest to cancel his visa.
There was some confusion surrounding the first cancellation of Novak Djokovic's visa and the judge that heard the first case was irritated that the professional tennis player's visa was cancelled under the risk to the health and good order of the Australian community as the more obvious choice would have been the matter of public interest. However, the immigration minister cannot personally cancel an individual's visa under the same ground as the delegate per Minister for Immigration and Multicultural Affairs v Bhardwaj. Therefore, the Australia Government reserved the public interest ground for the use of the personal power of the immigration minister if the Court found that the first cancellation of Djokovic's visa was invalid.
What is next for Novak Djokovic?
Novak Djokovic was set on participating in the 2022 Australian Open to maintain his professional status as a world-renowned tennis player. The professional tennis player challenged the second decision to cancel his visa and on 16 January 2022, the Full Court of the Federal Court of Australia dismissed the application resulting in Novak's deportation from Australia.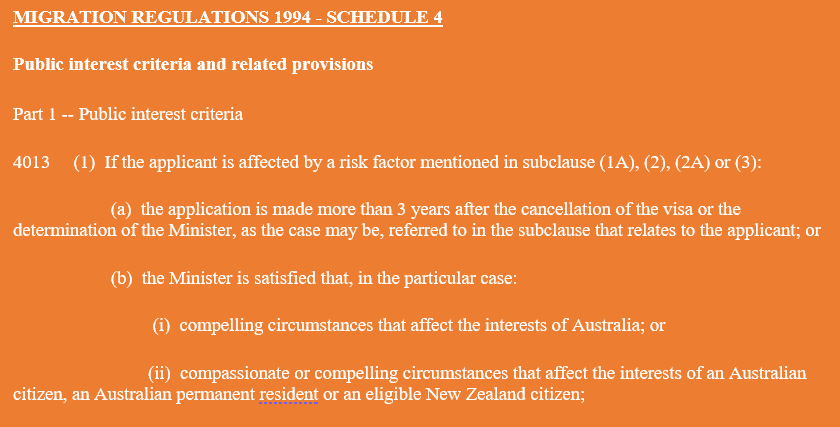 Due to Public Interest Criterion 4013 of the Migration Regulations 1994, Djokovic cannot return to Australia for three years unless the Minister makes a personally intervenes and waives the 3-year exclusion period (3-year ban). It is unclear what his future plans are for the next Australian Open tournament.
Novak Djokovic made a social media statement on 16 January after the Court's decision stating:
"I am extremely disappointed with the ruling to dismiss my application for judicial review of the decision to cancel my visa, which means I cannot stay in Australia and participate in the Australian Open. I respect the Court's ruling and I'll co-operate with the relevant authorities in relation to my departure from Aus…."
It is clear the Australian Government is aware of the sacrifices the Australian public has made throughout the COVID-19 pandemic and intends to uphold their strong stance by only allowing individuals who are vaccinated or have a valid medical exemption to enter the country.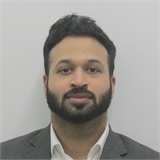 Mohamed Anas Sirajur Raheem
Barrister and Solicitor, New Zealand
Australian Lawyer
Mohamed is a New Zealand Immigration Lawyer with VisaEnvoy and an enrolled Barrister and Solicitor of the High Court of New Zealand. He is also admitted as a lawyer in the Supreme Court of Queensland.
He is a former New Zealand Immigration Officer (Visa Services) and Border Officer at Auckland International Airport. He has several years of experience working in various Government Departments in New Zealand and has also worked as a Licensed Immigration Adviser at a prominent New Zealand Immigration firm.
His areas of expertise and interest are in the fields of General Skilled Migration, Temporary Work (Long and Short Stay), Business visas, Partner, Parent and Child Visa streams.
Mohamed was inspired to pursue a career in immigration by his own migration experiences. Over the years he has assisted individuals, families, large corporations, Professional sportspeople, and Entertainers (singers, speakers, and actors) to come to New Zealand. Book a time with Mohamed here.