Digital Passenger Declaration- Australia's digital vaccination passports
On 13 September 2021, the Australian Government has announced that they have taken step to develop a new digital platform in an effort to reopen its border to the rest of the world. The new digital platform is said to replace the physical incoming passenger card and the COVID19 Australian Travel Declaration web form.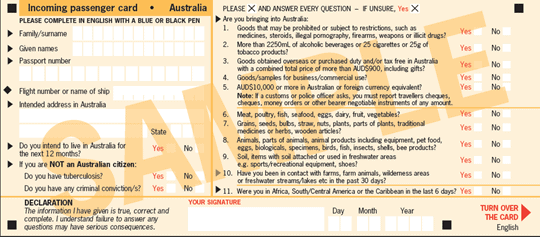 The incoming passenger card will soon be replaced by a digital platform, which can be completed on travellers' phones or computers
Related:
What is new about the Digital Passenger Declaration?
The Digital Passenger Declaration (DPD) will capture essential information of traveller's identity, what they are bringing into Australia, their addresses in Australia, visa status, and vaccination status up to 72 hours prior to boarding. Passengers coming into Australia will be able to complete the DPD on their mobile device or computer.
The DPD might also include visas, import permits, personnel identity cards, licenses, registrations, and other documents.
The DPD will also provide the capacity to collect, verify and share any Australian Government-approved and digitally-verified travel, health and vaccine status information of international travellers with State and Territory public health authorities.
We expect that the DPD forms will be available in multiple languages so international travellers will not have any difficulties understanding the questions and providing accurate answers.
When is the DPD launched?
The DPD will now move into a testing phase before being deployed, at scale, throughout major Australian airports.​​​
It is expected to be used later in this year 2021.
It is mandatory that you fill in the DPD before you can enter Australia. You have to make sure that all questions on it are answered, and answers are correct. Providing incorrect or misleading information might lead to a cancellation of your visas under section 102 and 109 of the Migration Act 1958.
When is Australia's border open?
Australia looks forward to opening its border and welcome international travellers at the end of this year, and the government is taking proactive steps to ensure the safe reopening of the border at scale when supported by health advice. Obtaining digital method of declaration demonstrate the Australian government's effort to open the border as soon as practical.
Australia has in place a four-phase plan to open its border by the end of 2021. Inbound and outbound travels in Australia are set to be free with limited restriction when the vaccination rates in Australia reach 80% of eligible population. As of today 16 September 2021, this rate is 35.5%.
With the current rollout, it is expected that Australia will reach 70% of vaccination rate in November 2021, and 80% in December 2021.
What vaccines are accepted in Australia?
When coming to Australia, you will have to answer the vaccination status in the Digital Passenger Declaration, including how many doses you have injected, and what brands of Covid19 vaccine you have got. Currently, Australia only approves the following vaccines:
Comirnaty (Pfizer) vaccine
Vaxzevria (AstraZeneca) vaccine
Spikevax (Moderna) vaccine
People who got vaccines that are not recognised by Australia might not be permitted to enter the country.
Related: