Digital Passenger Declaration- Australia's digital vaccination passports
On 13 September 2021, the Australian Government has announced that they have taken step to develop a new digital platform in an effort to reopen its border to the rest of the world. The new digital platform is said to replace the physical incoming passenger card and the COVID19 Australian Travel Declaration web form.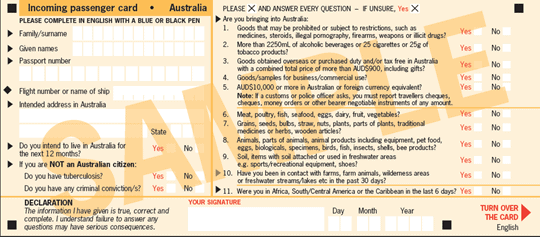 The incoming passenger card will soon be replaced by a digital platform, which can be completed on travellers' phones or computers
Related:
What is new about the Digital Passenger Declaration?
The Digital Passenger Declaration (DPD) will capture essential information of traveller's identity, what they are bringing into Australia, their addresses in Australia, visa status, and vaccination status up to 72 hours prior to boarding. Passengers coming into Australia will be able to complete the DPD on their mobile device or computer.
The DPD might also include visas, import permits, personnel identity cards, licenses, registrations, and other documents.
The DPD will also provide the capacity to collect, verify and share any Australian Government-approved and digitally-verified travel, health and vaccine status information of international travellers with State and Territory public health authorities.
We expect that the DPD forms will be available in multiple languages so international travellers will not have any difficulties understanding the questions and providing accurate answers.
When is the DPD launched?
The DPD will now move into a testing phase before being deployed, at scale, throughout major Australian airports.​​​
It is expected to be used later in this year 2021.
It is mandatory that you fill in the DPD before you can enter Australia. You have to make sure that all questions on it are answered, and answers are correct. Providing incorrect or misleading information might lead to a cancellation of your visas under section 102 and 109 of the Migration Act 1958.
When is Australia's border open?
Australia looks forward to opening its border and welcome international travellers at the end of this year, and the government is taking proactive steps to ensure the safe reopening of the border at scale when supported by health advice. Obtaining digital method of declaration demonstrate the Australian government's effort to open the border as soon as practical.
Australia has in place a four-phase plan to open its border by the end of 2021. Inbound and outbound travels in Australia are set to be free with limited restriction when the vaccination rates in Australia reach 80% of eligible population. As of today 16 September 2021, this rate is 35.5%.
With the current rollout, it is expected that Australia will reach 70% of vaccination rate in November 2021, and 80% in December 2021.
What vaccines are accepted in Australia?
When coming to Australia, you will have to answer the vaccination status in the Digital Passenger Declaration, including how many doses you have injected, and what brands of Covid19 vaccine you have got. Currently, Australia only approves the following vaccines:
Comirnaty (Pfizer) vaccine
Vaxzevria (AstraZeneca) vaccine
Spikevax (Moderna) vaccine
People who got vaccines that are not recognised by Australia might not be permitted to enter the country.
Related:
Guidance on foreign vaccination certificates
As Australia's border progressively reopens from 1 November 2021, more favourable entry rules may apply to certain arriving travellers who can prove they are fully vaccinated. To benefit from these arrangements, travellers vaccinated in Australia will need to present an Australian International COVID-19 Vaccination Certificate. Travellers vaccinated in other countries will be able to present certificates in formats that meet the following criteria:
Issued by a national or state/provincial-level authority or an accredited vaccination provider
Written in English or accompanied by a certified translation
Containing at a minimum:

name as it appears in the traveller's passport
either date of birth or passport number
the vaccine brand name, and
the date of each dose or the date on which a full course of immunisation was completed.
Paper and digital certificates are equally acceptable.
For travellers to qualify as fully vaccinated, their certificates must show vaccines approved or recognised by Australia's Therapeutic Goods Administration (TGA). Current approved and recognised vaccines and dosages are:
Two doses at least 14 days apart of:

AstraZeneca Vaxzevria
AstraZeneca COVISHIELD
Pfizer/Biontech Comirnaty
Moderna Spikevax
Sinovac Coronavac
Bharat Covaxin
Sinopharm BBIBP-CorV (for ages 18-60 only)
Or one dose of:

Johnson & Johnson/Janssen-Cilag COVID Vaccine.
Seven days must have passed since the final dose of vaccine in a course of immunisation. Mixed doses count towards being fully vaccinated as long as all vaccines are approved or recognised by the TGA. Doses of Sinopharm BBIBP-CorV only count towards being fully vaccinated if administered when the traveller was aged from 18 to 60 years. See the additional guidance on Sinopharm brand names below.
Travellers who have not been vaccinated with the above doses or schedule do not meet Australia's definition of fully vaccinated.
All children aged under 12 years count as fully vaccinated for travel purposes. Special arrangements(link is external) apply for certain returning Australian children aged 12-17 years who are not fully vaccinated.
Travellers who cannot be vaccinated against COVID-19 because of a medical condition need to provide evidence. They should also check any requirements, particularly quarantine requirements, in the state or territory to which they are travelling.
The TGA is continuing to evaluate other COVID-19 vaccines that may be recognised for the purposes of inbound travel to Australia in future. Information on the latest approved and recognised vaccines is available on the TGA website.
Shortened brand names
Some certificates shorten the name of a vaccine brand compared to how it appears in the list above.  For instance, some certificates refer only to 'Biontech', 'Comirnaty', 'AstraZeneca' or 'Johnson & Johnson'. This is acceptable.
A certificate is not acceptable if it includes the name or part name of a vaccine not currently approved or recognised by the TGA.
Special rules apply for Sinopharm brand names (see below).
Sinopharm brand names
There are two kinds of Sinopharm vaccine. One is from Beijing and one from Wuhan, although both may also be produced at other locations.
Only the Beijing vaccine is recognised by the TGA. It comes from the Beijing Bio-Institute of Biological Products (BBIBP), also known as the Beijing Institute of Biological Products (BIBP).
The brand name on a certificate shows the Beijing version, and is acceptable, if it meets the following criteria::
contains the expressions 'BBIBP' or 'BIBP'
spells out BBIBP or BIBP
contains the words 'Sinopharm' and 'Beijing', or
contains the trade name 'Covilo'.
Sinopharm brand names can also include other expressions such as 'CNBG', 'Cor‑V' and 'Vero Cells'. These are not relevant to whether the vaccine is recognised by the TGA.
Examples of brand names that meet the above criteria and are acceptable include:
Sinopharm BBIBP-CorV
Sinopharm BBIBP
Beijing Bio-Institute of Biological Products
Beijing Institute of Biological Products
Sinopharm BIBP
Sinopharm BIBP-CorV
Sinopharm CNBG BBIBP
Sinopharm CNBG BIBP
Sinopharm Covid Vaccine BIBP
Sinopharm Beijing
>BBIBP-CorV
BBIBP (Vero Cells)
BIBP
BIBP-CorV
Sinopharm Covilo
Covilo
There are many possible combinations – this list is not exhaustive. Any brand name that meets the above criteria is acceptable
Examples of brand names that do not meet the above criteria and are unacceptable include:
Sinopharm
Sinopharm WIBP
Sinopharm Wuhan
'Sinopharm' by itself is not acceptable on a certificate because there is no way of telling whether it refers to the Beijing or Wuhan vaccine.