Bringing your pets to Australia
Moving to Australia is a big step in everyone's life. Many people also want to bring their fur-friends to Australia with them. However, there are many regulations and logistics involved in this procedure which you must understand to plan a "purrfect" journey for your little buddies.
In this article, we will discuss relevant matters that you should consider in bringing your pets to Australia.
Are pets allowed to be imported to Australia?
Countries are categorized into 3 groups eligible to imports pets to Australia. The categories are based on the countries' rabies status; therefore, different requirements and conditions are imposed.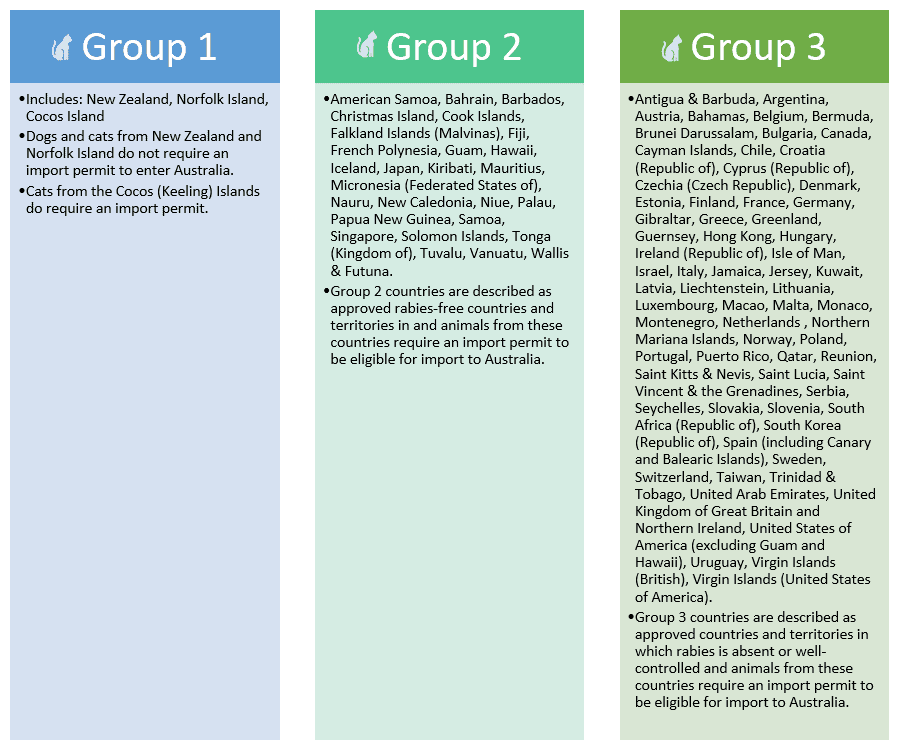 If you cannot not find your country in the above list, it means that your country is a non-approved country. Animals from non-approved countries are not eligible for direct import to Australia, and you should follow the procedure of importing animals of Group 2 and 3 countries.
How long will your per be in quarantine?
Australia is free from a number of cat and dog diseases and has a highly favourable animal health status. In order to protect this status, cats and dogs must undertake a period of quarantine upon arrival in Australia. This quarantine period allows the Australian Department of Agriculture, Water and the Environment to monitor the animal's health and become aware of any disease concerns prior to the animal's release into Australia.
There is only 1 animal quarantine facility in Australia, which is in Mickleham, Melbourne. Your pets will need to spend a quarantine period here before they can be transported to elsewhere.
Cats and dogs may now be transhipped via Sydney to the Post-Entry Quarantine Facility in Melbourne, under limited circumstances and subject to eligibility. This temporary arrangement between the Department and Qantas airlines is available to cat and dog owners when there is no option for them to fly directly to Melbourne.
The minimum cost for one cat or dog to undergo a minimum 10-day quarantine isolation is approximately $2000. There may be additional fees if the animal needs extra parasite treatments, veterinary care, an extended stay in quarantine or other services.
Cost involves
This is often the biggest concern among pets' owners. When bringing your pets to Australia, you must take into account several costs that might be involved in the process.
Vet fees – for all necessary vaccination before boarding – around AUD $425
Airline fees – depending on size of your pets and where they are travelling from – around AUD $2,000 – 3,000
Import permit fees – around AUD $480 per pet
Quarantine fees – minimum AUD 2,000 per pet, plus $29 per extra day
Exporting fee – depending on your country
Travel gear for pets – around AUD 150
Based on the above break down cost, you can look into around AUD 5,000 – AUD 10,000 to bring your pets over to Australia.

Yes, there are some agents that can help you to plan a worry-free travel for your pet. Although the cost will be a little higher than you plan the whole thing yourself, but it's worth to have a specialist in this process to make sure that your pets can arrive safely.
Some agents in Australia:
Send them an inquiry to see how much they would charge and how they plan your pets' travel.

What cats and dogs breeds cannot be imported into Australia?
Cats:
Domestic/non domestic hybrids cannot be imported to Australia in accordance with the Environment Protection and Biodiversity Conservation Act 1999. Hybrid cats include, but are not limited to:
Savannah cat, domestic cat (Felis catus) crossed with serval cat (Felis serval)
Safari cat, domestic cat crossed with Geoffroy cat (Oncifelis geoffroyi)
Chausie, domestic cat crossed with Jungle cat (Felis chaus)
Bengal cat, domestic cat crossed with Asian leopard cat (Prionailurus bengalensis).
Dogs:
The following pure breeds cannot be imported into Australia under the legislation of the Department of Home Affairs :
dogo Argentino
fila Brasileiro
Japanese Tosa
American pit bull terrier or pit bull terrier
Perro de Presa Canario or Presa Canario
Domestic/non-domestic hybrids (e.g. dog-wolf crosses) are also prohibited. This includes, but is not limited to:
Czechoslovakian wolfdog or Czechoslovakian Vlcak
Saarloos wolfdog or Saarloos wolfhound
Lupo Italiano or Italian wolfdog
Kunming wolfdog or Kunming dog.
Related: