Australian Social Welfare Payment for New Migrants
One of the most common and important questions that we have received from our clients is if they are eligible for certain types of social welfare, such as pension, medicare, parental leave, job seeker etc. For most of the welfare payments, new migrants will need to wait for a period of time (from 1 to 10 years) to be eligible.
This article aims to provide you with a summary of waiting periods for welfare payments for new migrants in Australia.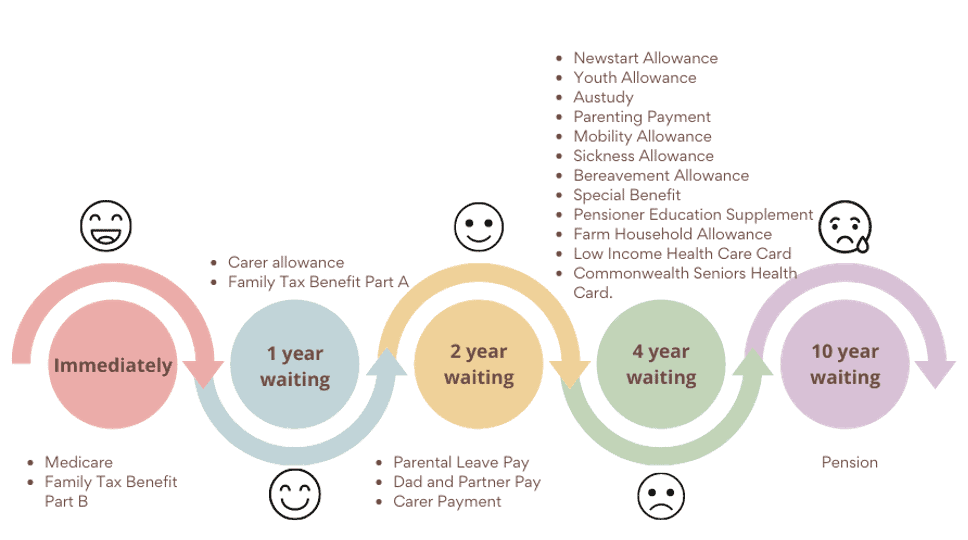 Medicare Benefits
Medicare is the designed for the Australian Government to help Australian and certain visa holders with the cost of their health care. Medicare covers:
Health check-up
Medicine
Mental health
Screening, tests and scans
Other chronic disease treatment.
If you have applied for or being granted a certain type of visa as listed below, you are eligible to enrol in Medicare immediately.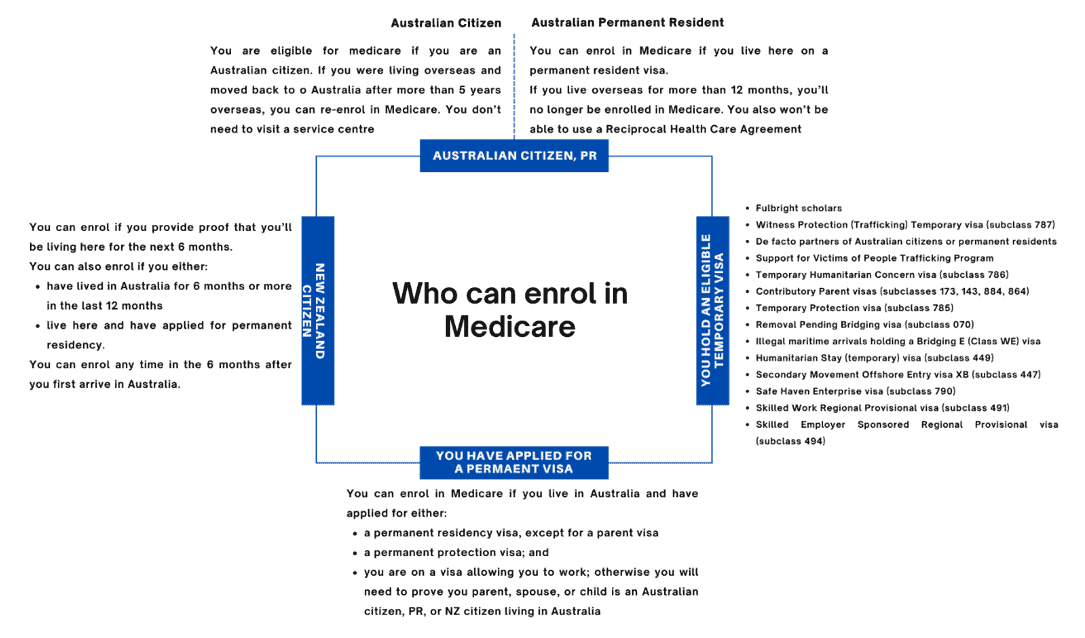 Reciprocal Heath Care Agreements
You might be eligible to enrol in Australian Medicare, and be covered overseas if you are from a country which has a Reciprocal Health Care Agreement with Australia. Those countries include:
Belgium
Finland
Italy
Malta
Netherlands
New Zealand
Norway
Republic of Ireland
Slovenia
Sweden
United Kingdom
Pension
To be eligible for Age Pension you must:
be Age Pension age

On 1 July 2021, Age Pension age increased to

66 years and 6 months

for people born from 1 July 1955 to 31 December 1956, inclusive
If your birthdate is on or after 1 January 1957, you'll have to wait until you turn

67

. This will be the Age Pension age from 1 July 2023.

Meet Residence Rules: To get Age Pension you generally need to have been an Australian resident for at least

10 years

in total. For at least 5 of these years, there must be no break in your residence. You are exempt from this requirement if you are:

a refugee or former refugee
On another payment
Woman whose partner died
Lived or worked overseas in an agreement country

Meet income test: your pension is reduced by 50 cents for each dollars over AUD 180 if you earn over AUD 180 per fortnight for single, or over AUD 320 per fortnight for couple.
Meet assets test.
Other Social Welfare Payments
The newly arrived resident's waiting period (NARWP) is time spent in Australia as an Australian resident. This means, if you travel overseas, the time you're away from Australia won't count towards the waiting period.
New residents may have to wait up to 4 years before they can:
get most of our payments
use most of our services.
A maximum 2 year waiting period applies if you're the holder of either:
an Orphan Relative visa (subclass 117 or 837)
a Remaining Relative visa (subclass 115 and 835).
Proposed Changes from 1 July 2022

In May 2021, the Australian Government said it wanted to change the law for migrants granted a relevant permanent or temporary visa on or after this measure begins. The start date will be 1 January or 1 July after the legislation passes.

If Australia adopts these new laws, newly arrived residents will have to wait 4 years(instead of 2 years as current law) before they can get carer payments and family payments.
Exemption to the waiting period
You may not have to wait the newly arrived resident's waiting period if you're 1 of these:
an Australian citizen
a refugee or former refugee
a holder of a certain visa subclass and claim certain payments.
You may also not have to wait if you're a family member of a refugee or humanitarian migrant. This is if you're a family member at both times when:
that person arrived in Australia
you claim a payment or concession.