Top Countries with Offshore Partner visa Grants (SC309)
The Partner (Provisional) subclass 309 visa allows the de facto partner or spouse of an Australian citizen, permanent resident or eligible New Zealand citizen to travel to Australia. A subclass 309 visa holder can live, work and study in Australia while waiting for the Department of Home Affairs (DoHA) to process his/her permanent Partner (Migrant) subclass 100 visa.
For the last two years, India, China, Pakistan, Vietnam and UK have the most subclass 309 visa grants. In 2018-19, the top five rankings are as follows:
India (2,603)

China (2,120)

UK (944)

Pakistan (923)

Vietnam (922)
For the 2019-20 year (until 30/04/2020), the top five countries remained the same but with different rankings:
India (1,755)

China (993)

Pakistan (857)

Vietnam (728)

UK (559)
India and China remained to be the top two countries with the most subclass 309 visa grants. UK is also the only country in the top five from the European region.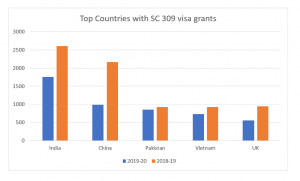 309 visa lodgements by gender
We also found data which shows the visa applications lodged for subclass 309 by citizenship and gender.
Male 309 visa applicants
In 2019-20, the top countries to lodge a subclass 309 visa by male applicants were:
China (652)

UK (566)

India (428)

Vietnam (348)

Afghanistan (350)
Female 309 visa applicants
For female applicants, the top countries were:
India (1,536)

China (797)

Vietnam (778)

Pakistan (708)

Afghanistan (538)
Overall, there were more female applicants than male applicants. During that period, 9,657 applicants were female, and 5,468 applicants were male.
Top Offshore Partner Visa Processing Offices
The government has set up different offices around the whole to process subclass 309 visa applications. Among them, the top five processing offices with the shortest median processing times are:
Singapore (164.66)

Ankara (238.17)

Tel Aviv (238.94)

Cairo (240.92)

Hong Kong (284.89)
That is, it takes approximately 5.4 months for Singapore office to process the visa. The office with the longest processing time is in Auckland. The average processing days is 1672, approximately 4.5 years.