Australian Adoption Law and Adoption Visa
Adoption Visa (SC 102) allows children adopted outside of Australia to live with their adoptive parent in Australia. To be eligible, the child must under 18 years old and be adopted through one of the following categories:
An inter-country adoption with the involvement of an Australian state or territory central authority or;
Hague Adoption Convention or;
Expatriate adoption where the Australian citizen has been living outside Australia for more than 12 months.
While the law is designed to protect against serious offences such as child trafficking and production of fraudulent documents, in some circumstances, it can cause unfair and unreasonable decision.
Recently on 9NEWS, an applicant who was born in Vancouver, Canada and was adopted there by Australian parents since she was a child. In this case the child was adopted at birth however they were rejected for citizenship by descent because at the exact time of her birth she did not have an Australian citizen parent. She is also not able to apply for the subclass 102 adoption visa as she is over the age of 18.
Both her parents are Australian, and she does not have any family in Canada. In the interview, the applicant stressed the unfairness of her situation as she was being treated differently to biological children of Australians.
"This is so wrong to treat an adopted child like this. I know there are rules in place but just knowing I have two Australian parents from birth, I wasn't adopted at 24 years old, the age I am now."
The family is calling for flexibility of the law for this unreasonable and unfair decision.
Adopted children who are over 18 years old do not have a direct legal avenue to gain citizenship in Australia. The Australian Citizenship Act 2007 (Cth) states that citizenship can be gained through one of the followings ways:
S 12 Citizenship by birth – The applicant needs to be born in Australia.
S 13 Citizenship by adoption – The legal adoption of the applicant needs to take place when the applicant is under 18 years old and in Australia 
S 16

By descent

– Policy dictates that the child needs to be biological in all but a very limited scenario.
S 19C Hague Convention on Inter-country Adoption or a bilateral arrangement – The applicant is adopted overseas.
S 21 Citizenship by Conferral – The applicant must first apply for permanent residency in Australia.
Related:
The most common way for adopted children of expatriates to gain citizenship is by conferral. Firstly, the applicant must be granted permanent residency and secondly, after four years of being in Australia, the applicant can apply for citizenship.
However, in this exceptional situation, the applicant is unable to apply for the SC 102 because, in 100% of cases, the applicant must be under 18 years old.
Our migration lawyer, Ben Watt has voiced on 9NEWS that their family situation was unique and that the law needs to be changed to consider compassionate grounds.
"I think everyone who you would present this scenario to would say this looks quite unfair. It does not look like the law is working the way it is intended to."
"The government should also make this issue more clear on the citizenship website and the various other ways they communicate to the Australian community that's living abroad."
The article on 9NEWS can be viewed here.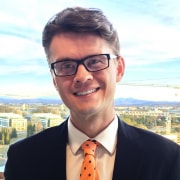 Ben Watt
Lawyer & Registered Migration Agent